Thea is shocked to discover that her grandmother Hedi is alive when her mother had always said she died years ago. Her grandfather Harry only died a few days earlier and Thea is sad at the lost opportunity. She is keen to develop a relationship with Hedi and is shocked by the secrets that Hedi and Harry have kept for decades.
The Hideaway is a dual timeline novel set in Wales and Germany in the present day and 1945.
Thea is at a crossroads in her relationship: he wants more commitment and she doesn't. She rents a property in Wales to collect her thoughts but invites Hedi to join her when she discovers her existence. Hedi reveals the love story that started in the Bergen-Belsen concentration camp but which she has never been able to share with her estranged daughter.
The brutality of the camp and the shocking conditions and circumstances after liberation make for difficult and emotional reading. The women endure appalling conditions However, the cameraderie and hope as well as knowing that Hedi survives and lives a long happy life, lift the overall tone of the book.
In the present day, Thea and Hedi have a wonderful time getting to know each other and creating happy memories. Both of them have a stilted relationship with Maggie but Thea hopes she can reconcile her mum and grandmother before it is too late. There are two instances when Hedi lashes out with physical violence. She has bottled things up for so long and regrets her actions but I can understand why she wanted to protect her daughter from the truth.
The Hideaway is a beautifully written novel about love, grief and family.
I have previously reviewed The Drowned Village by Norma Curtis.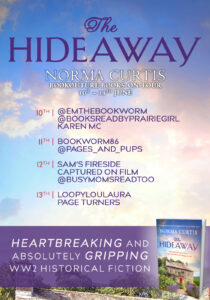 The Hideaway: A heartbreaking and absolutely gripping page-turner full of secrets
About the book
Thea placed her hands on the soft, aged leather of her grandmother's suitcase, the one the slight old woman never let out of her sight. The thunk of the lock sounded very loud in the stillness of the cottage and Thea froze, her eyes on the bedroom door. Hearing nothing, she held her breath and peered inside…
Hedi Fischer, aged ninety, smooths her hair and applies a touch of red lipstick from the tube. Over her pristine wool skirt suit she has knotted a men's tartan bathrobe, frayed with age. Hedi hasn't taken it off since her darling Harry passed. Since the day she gave away everything but the battered little suitcase that holds all the memories she's tried her best to lock away.
Thea has never met her grandmother Hedi, so she's surprised when she receives a call to take her home. She's not sure how Hedi will fit into her new life – the one where she's left her boyfriend and moved into a run-down cottage miles from the nearest town. And Hedi refuses to talk about her past, or why she and Thea's mother haven't spoken for more than thirty years. So when Thea spots Hedi's case on the table, she can't resist taking a peak inside…
What Thea finds there is more heartbreaking than she could have ever imagined. It is a story that begins in World War Two, when young Hedi arrives by train at a Nazi concentration camp, from which she has no hope of escaping alive…
A heart-warming and emotional read that will have you reaching for the tissues! Perfect for fans of Fiona Valpy, Lily Graham and Rachel Hore.
Buy link
 
Author bio:
Norma Curtis's first published stories were for teenage magazines and she began writing novels when she joined the Romantic Novelists' Association. Her first novel won the New Writer's Award and was chosen as a WH Smith Fresh Talent title. A couple of years after being invited onto the RNA committee she was made chairman and following her two-year term of office she studied creative writing at City University before taking an MA in Prose Fiction at Middlesex University.  The Drowned Village is her sixth novel and she lives in North London with her family.
Author social media:
Twitter: @The NormaCurtis