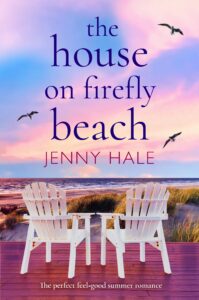 Sydney and Nate had the perfect relationship and had planned out their future together. Until one day, Nate left Firefly Beach without a backwards glance. Sydney rebuilt her shattered heart but later returned to live in the old family home at Firefly Beach. Nate returns for his friend's wedding and is eager to make amends. But has he left it too late and what is his connection to the redevelopment of the land that could result in Sydney's family losing their home…
It is clear to us as readers that Sydney and Nate are perfect to each other and there must be some reasonable explanation for his behaviour in the past and present. However, I don't blame Sydney for keeping him away, wanting to protect herself and her son from further heartbreak.
The House on Firefly Beach is the second in the series by Jenny Hale set at this location with the same background characters. This book works well on its own as it is a continuation of the story but with new lead characters to drive the plot forwards. If you have read the first book then you will get an update on that lead couple's relationship.
Sydney and Nate are both likeable but their past keeps getting in the way of any future together. The trust between them has shattered and both of them are vulnerable to heartache. There is an important theme of appearances being deceptive and the danger of making assumptions about peple and their motives.
This is a feelgood book with a happy ending that ties up things nicely for all characters which leaves the reader with a warm and satisfied feeling.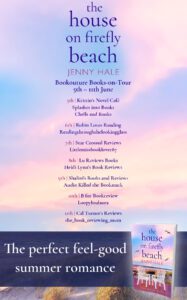 Media Kit:
Title: The House on Firefly Beach
Publication Day – June 5th 2020
Author:  Jenny Hale
BUY LINKS
Description:
Nothing beats falling in love under the sun, with the sand beneath your feet. This gorgeous, feel-good, and heartwarming summer escape from the bestselling author of The Summer House is perfect for fans of Mary Alice Monroe, Susan Mallery and Nancy Thayer.
For Sydney Flynn, her treasured family home, Starlight Cottage, is her sanctuary. The house on the beach, surrounded by glittering turquoise waters, is the perfect place for her fresh start, piecing her life back together after it fell apart. That's until her knees almost buckle at the sight of Nate Henderson.
As teenagers, Sydney and Nate spent their summers whispering sweet nothings and promising "forever" to each other. Sydney never imagined that her childhood sweetheart was going to break her heart, driving away from her and Firefly Beach, never looking back.
Now, when Sydney spots him at her sister's wedding, their eyes meeting across the rows of guests, she barely recognizes him. The down-to-earth son of a fisherman, forever in beach t-shirts and flip flops, is replaced with a successful songwriter in a designer suit, a superstar in the country music scene. Yet despite everything, his dazzling blue eyes and easy smile stir up all the feelings she thought she'd left behind.
Nate is back to make it up to Sydney, but can she forgive him for all the heartbreak he caused? And it's not only about her – Sydney is a single mother to Robby, her whole world, and she won't let just anyone into their lives. Can she trust that Nate has really changed?
As if worrying about Nate wasn't enough, a new development threatens Starlight Cottage, the safe haven that saved her when she had nothing else. Can Nate and Sydney overcome their past to save Firefly Beach and the house that holds so many memories for them? Or will the town they adore, and the love they have for one another, be lost forever?

Author Bio:
When I graduated college, one of my friends said, "Look out for this one; she's going to be an author one day." Despite being an avid reader and a natural storyteller, it wasn't until that very moment that the idea of writing novels occurred to me.
Sometimes our friends can see the things that we can't.
While I didn't start straight away, that comment sowed a seed and several years, two children, and hundreds of thousands of words later, I completed a novel that I felt was worthy of publication. The result was Coming Home for Christmas, a heart-warming story about the magic of love at Christmas, and 2017 TV movie on The Hallmark Channel.
The rest is history.
When I'm not writing, I'm a mother of two boys and a wife to a very supportive husband.
Author Social Media Links: