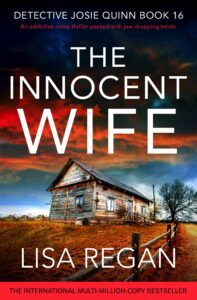 Celebrity marriage guidance couple Beau and Claudia are all set to celebrate their 15th wedding anniversary. But he arrives late and finds his beloved wife dead….
The Innocent Wife is the 16th detective thriller novel to feature Josie Quinn and her team. There are no spoilers about previous cases whilst their personal lives and relationships have developed over the course of the series.
Beau and Claudia appear to have the perfect life but Josie is convinced that someone isn't happy with them. Could someone's marriage have failed despite their advice? Her theory is challenged when more of their acquaintances are killed and the killer leads Beau and the police in a chilling game.
I enjoyed the dynamics of this book. Josie and Noah are newly married but the marriage advice makes them consider their own relationship. There is a tension as Josie's ex returns and she has mixed emotions about him. But everyone loves his dog!
Most of the book is written in the third person to show the investigation. We do get some unnamed diary entries which show a person in turmoil and this raises questions about their identity and how it relates to the plot. The chapters are quite short and full of action so the plot races along.
The Innocent Wife is a good addition to the series and I love the relationship between Josie and Noah.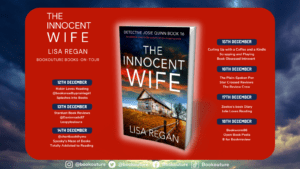 Media Pack Info Sheet:
Title:         THE INNOCENT WIFE
Author:     Lisa Regan
Publication Day: DECEMBER 12TH 2022
Buy Links :
Description:
Candles are lit and their rich vanilla scent twists its way through the cabin. The table is set for a romantic anniversary dinner with fresh roses dropping crimson petals on crisp white linen. But the woman seated at the table is cold to the touch, and there's blood trickling down her neck…
When Denton's most loved TV presenter returns home to find his wife dead at the dining table, it shatters the close-knit community. Beautiful and absolutely besotted with each other, Beau and Claudia Collins were idolized for being the perfect couple. But the devastating scene Detective Josie Quinn finds in their remote hideaway has her asking what dark secrets lurk beneath the surface of this seemingly flawless marriage?
Beau is grief-stricken by the loss of his kind-hearted wife who gave so much to others as a therapist, but Josie needs to know the significance of the small wooden puzzle box found clutched in Claudia's hand. A prop in a popular game Beau played with his viewers to test the strength of their relationships, is it a twisted calling card, or a challenge from the killer?
The broken body of one of Beau and Claudia's assistants is found the next day, a matching little box left in the dirt beside her. It's clear that if Beau doesn't start telling the truth about the flaws in his marriage, those dearest to him will die.
Caught in a cat and mouse chase with disturbing revelations and a mounting body count at every turn, Josie and her team work night and day to keep Beau's loved ones safe. What kind of calculating monster would do this? A faded newspaper article about a tragic accident is the break Josie desperately needs. But she may already be too late, an innocent child is in danger…
An absolutely gripping rollercoaster of a crime thriller from an Amazon, USA Today and Wall Street Journal bestselling author. Guaranteed to have you sleeping with the lights on and shouting from the rooftops about the twists, it's perfect for fans of Angela Marsons, Robert Dugoni and Rachel Caine.

Author Bio:
Lisa Regan is the USA Today and Wall Street Journal bestselling author of the Detective Josie Quinn series. Lisa is a member of Sisters In Crime, International Thriller Writers, and Mystery Writers of America. She has a Bachelor's Degree in English and Master of Education Degree from Bloomsburg University. She lives near Philadelphia, Pennsylvania in the U.S. with her husband, daughter, and Boston Terrier named Mr. Phillip. Find out more at her website: www.lisaregan.com
Author Social Media Links: