Debbie's son died in a tragic drowning and she has been terrified of water ever since. But she can't turn down this vacation by a lake as it may impact her husband's work. A sinister figure on the lakeside, complex social relationships and an undercurrent of unease culminate in a death…
The Lake is a psychological thriller and murder mystery set in Ireland.
Debbie and Jim head off to a lakeside retreat to connect with friends and colleagues. He has been cheating on her with Susie, another member of the group. Susie's husband George is unbearable and I wasn't sorry when he died in mysterious circumstances!
George's death could be a terrible accident but he was heard shouting before he 'fell'. The police are convinced it is murder and refuse to let the others leave. This adds to the tension as Debbie is struggling being so close to open water due to her son's death. There are multiple episodes of interrogation by the police alongside suspicions between the main party.
The book is written from the alternating first person perspectives of Debbie and Jim. Jim has made a terrible mistake and bitterly regrets his affair but now Susie won't let him go and Debbie is starting to suspect something is amiss. Any one of the group could have been responsible for George's death and the mystery was maintained until the very end. However, I found the ending to be a little abrupt and didn't feel that enough character development and reasoning had taken place.
The Lake is a tense murder mystery with the addition of the psychological thriller as tense relationships fuel the plot.
I have previously reviewed The Perfect Home by Kevin Lynch.
Book Blurb
Debbie's holiday has turned into a nightmare. And that's just the beginning.
Debbie has been terrified of lakes ever since her son tragically drowned in one. So when her husband and some friends decide to take a lakeside vacation, Debbie is reluctant to go. But hoping that the holiday will help cure her fear, she eventually agrees to join them.
 Things start to go wrong very quickly. A local fisherman seems to be stalking them. And then George, a member of their group, goes missing. His body is discovered a day later, his injuries suggesting a struggle.
 All the while, Debbie is being haunted by the sinister presence of the lake. More than anything, she wants to leave this dark foreboding place, but the group has been told to stay in place while George's death is being investigated.
 Which means Debbie has only one choice. If she wants to escape the terror of the lake, she must first solve the mystery of George's murder.
What she discovers will not only shock her to the core, it will also put her own life in grave danger. Can she escape in time to expose the terrifying truth?
The Lake is a gripping and intriguing thriller that you won't be able to put down.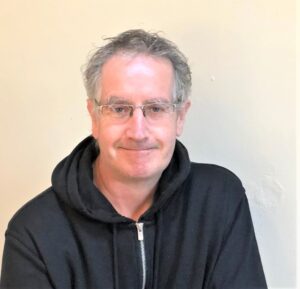 Author Bio
Kevin is a Guidance Counselor by day and a psychological thriller author during his off hours. He puts an original slant on some common experiences and creates engaging stories with a personal twist. Kevin lives in Dublin, Ireland with three great kids, a frenetic Westie, Alfie, and a wife who makes him laugh, which is really all he could ask for.