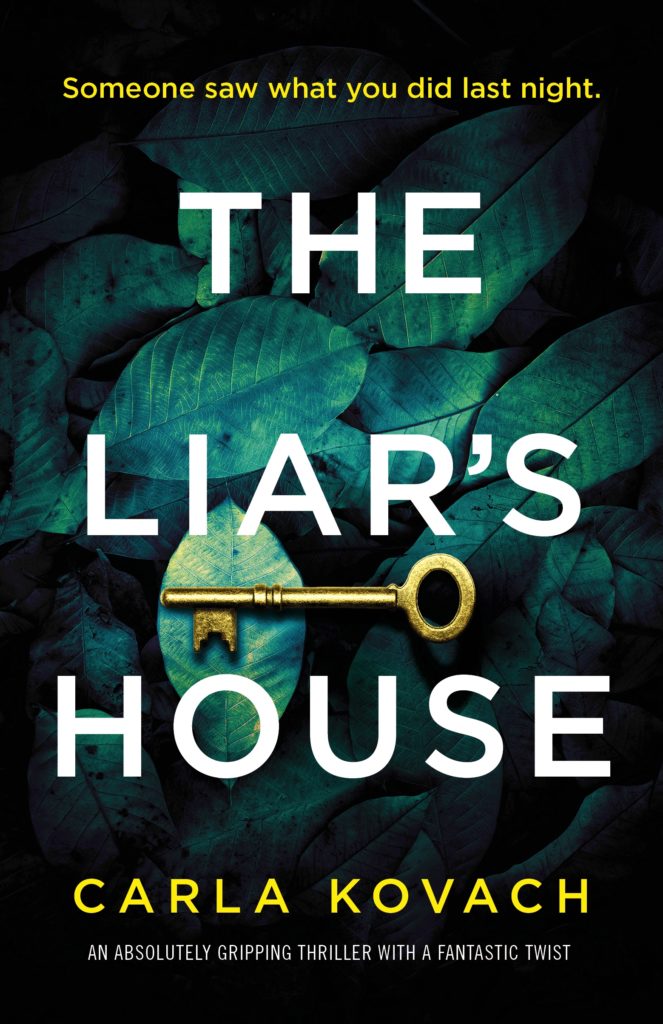 The fourth book to feature DI Gina Harte and once again her personal life is mixed up in a murder case. A woman is found dead after a party and there are links to the disappearance of another woman years ago. It soon becomes clear that both women were involved in wife swapping parties and the other attendees are keeping quiet.
Meanwhile, Gina has been looking for love (or just lust) to help her forget about her boss who she still yearns for. Her latest lover won't leave her alone and then turns out to be involved in the case, as is her cruel late husband's brother.
The Liar's House is a great police procedural novel and it is fantastic to have a strong female lead officer who has an emotional depth that appeals to readers. This book focuses much more on her romantic relationships whilst the last one had more of a family angle.
Carla Kovach's style of writing is easy to read and fast paced. Chapters are no longer than 5 minutes so it is tempting to read one more chapter even when tired or have a list of chores (come on mums, who with me?)
We see the first person viewpoint of the killer and this adds to the anticipation as we see him stalk his victims whose perspective is also shown to heighten the tension. There are some unpleasant descriptions of violence and murder but they are not overly graphic or gratuitous.
I had no idea who the killer was and was desperate for some characters to get their comeuppance but I won't give away the conclusion…
Read my review of the previous book in the series: Her Pretty Bones!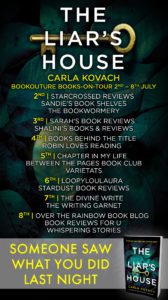 Title: The Liar's House
Publication day: July 2nd
Author:  CARLA KOVACH
Buy  Links:      
Description:
Samantha stumbled out of the party and on to a busy street only ten minutes away from her home. But she never made it home… 
Seven years after Samantha's disappearance, on what would have been her thirty-fifth birthday, her best friend Diane is shocked to find a letter addressed to Samantha on her doorstep.
Opening the envelope, Diane pulls out a birthday card and a finger nail painted in dusky pink nail polish. The same shade Samantha always wore. The same shade she was wearing the night she went missing.
When police analyse the nail, they don't get the result they expected. Instead of linking them to Samantha, the nail belongs to another woman, Jade Ashmore. And Jade was murdered the night before the envelope was delivered….
THE COMPLETELY ADDICTIVE NEW CRIME THRILLER FROM BEST SELLING AUTHOR CARLA KOVACH – if you love Lisa Gardner, Robert Bryndza or Clare Mackintosh, you'll love 
The Liar's House
. Gripping from the first page – you won't be able to put it down.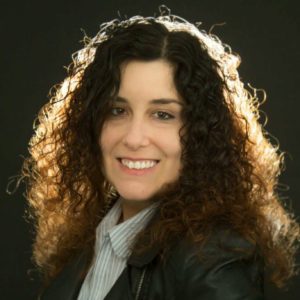 Author Bio:
Carla Kovach was born in Birmingham, UK and now resides in Redditch, Worcestershire. Author of supernatural drama 'Flame,' psychological thriller 'To Let,' crime thriller 'Whispers Beneath the Pines,' and holiday comedy, 'Meet Me at Marmaris Castle.' Carla also writes stage and screenplays, some of which have been produced in the Worcestershire area. Her feature film 'Penny for the Guy' is being made and is set for release in 2019.
Her latest book, Her Final Hour, has been published by Bookouture. It is the second in the DI Gina Harte crime series.
Author Social Media Links: