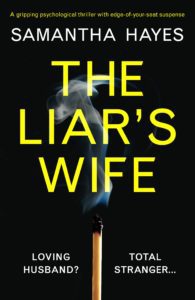 This is an astonishing book to read. Right from the start there is a sense of unease and agitation as Ella goes about her life avoiding social contact as much as possible.
Then she has an accident. When she wakes from her coma, she is greeted by her husband Jacob. Except she has never married…
The past relationship between Ella and Jacob is hinted at and we understand that she tried to kill him although her motives remain unclear. He now wants to delete the past and create a future together.
The story of the present day is interweaved with events from their uni days which leaves the reader guessing about the years in between.
There is a lot of domestic violence in this book and the controlling abuse that Jacob uses is so well described that the distress of Ella is palpable. She is a prisoner due to her physical injuries and her mental fear. Jacob gets rid of her flat, forces her to resign from her job and presents her with a baby that he has abducted.
Ella has one glimmer of hope: a work colleague who can't believe that Ella would leave her job so readily but can Liam find her before it i too late…?
This book was uncomfortably good and the ending had twists I was not expecting. All through the book, I felt troubled by Ella due to her suffering at the hands of Jacob and the guilt she carried around before his return. But there was something else about her and we discover throughout the book the sadness that existed in her life even before her university days.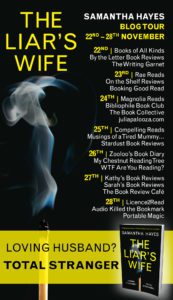 Title: The Liar's Wife    
Author:  Samantha Hayes
Publication Day: November 22nd 2018
Buy Links:     
Description:
When Ella wakes up in hospital following a hit and run incident, she is scared and confused. Close to tears, her eyes fall on a get-well-soon card on the window sill and the nurse reassures her that her loving husband will be back soon.
But Ella has never been married… 
Absolutely love twisty and unputdownable psychological thrillers like Girl on the Train, The Wife Between Us and Gone Girl? Then you will be totally hooked by this jaw-dropping novel about the dangerous secrets behind a perfect marriage.
 
Author Bio:
Samantha Hayes grew up in Warwickshire, left school at sixteen, avoided university and took jobs ranging from private detective to barmaid to fruit picker and factory worker. She lived on a kibbutz, and spent time living in Australia and the USA, before finally becoming a crime-writer.
Her writing career began when she won a short story competition in 2003. Her novels are family-based psychological thrillers, with the emphasis being on 'real life fiction'. She focuses on current issues and sets out to make her readers ask, 'What if this happened to me or my family?'
The Liar's Wife is out now!