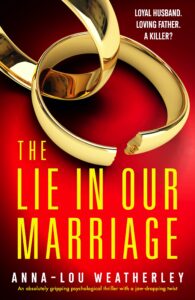 TRIGGER WARNING: suicide, mental health
Maggie and Len are celebrating their 25th wedding anniversary. But as Maggie pops into the loft to grab a surprise for her husband, she discovers a woman's scarf. Initially she suspects he may have had an affair, but then she sees a photo of a murdered woman wearing the same scarf…
The Lie In Our Marriage is a murder mystery (the 6th book to feature DI Dan Riley), as well as a domestic drama and psychological thriller, set in the UK. I have previously reviewed The Night Of The Party from the series but each works as a standalone novel.
Maggie and Len's love has grown and strengthened over the last 25 years and now they are looking forward to becoming grandparents. I was surprised at how quickly Maggie jumped to believing the worst about Len but her fears and doubts felt authentic. After so many years together, I thought she should have been braver about speaking to him although I feel that she was more afraid of the truth than of him harming her.
Meanwhile we see some chapters from Dan Riley's perspective as he attempts to solve the murder case. He has a good working relationship with his colleagues and in his home life is expecting his second child.
Dan's easy to like personality makes the reader want him to solve the crime. However, this contrasts with our sympathy for Maggie. She has frantic thoughts due to her mental trauma from her mother's suicide when she was a child, as well as her fears about her own and her son's mental health.
There are some great twists in the book which I was expecting but still enjoyed. I loved the satirical look at modern social media 'celebrities' and Dan's scathing opinions. The character of Maggie is wonderfuly written and her emotions were easy to understand and relate to. The final lines almost had me in tears!
The Lie In Our Marriage is a gripping thriller and mystery.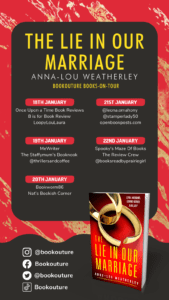 MEDIA PACK
The Lie in Our Marriage: An absolutely gripping psychological thriller with a jaw-dropping twist (Detective Dan Riley Book 6) by Anna-Lou Weatherley
On a warm spring evening, guests gather in a perfectly manicured garden to celebrate Maggie and Len's twenty-fifth wedding anniversary. Maggie leans against the apple tree, watching her fun-loving husband and darling children as her heart swells with pride. As the joyful party atmosphere disappears into the night, close by, the lifeless body of a young woman is pulled from a river.
Slipping upstairs to find the special gift for her adoring husband, Maggie stumbles across something else hidden amongst the dusty boxes of family keepsakes…
A printed pink silky scarf that doesn't belong to her. She holds it up to her face, breaths in the sweet sickly perfume, it's scent familiar, and tendrils of fear snake through her body. The scarf is stained with blood.
As Maggie rejoins the party and tries to ignore her churning stomach, she pours herself a glass of champagne to toast the man she's enjoyed decades of happy marriage with. Then she catches a news flash of the local girl's murder. She stares at the girl with the beautiful face, long ice-blonde hair and, draped loosely around her neck, Maggie recognises it instantly. She's wearing the scarf.
An utterly addictive and twisty read about the complex web of secrets within a family that will have you racing through to the mind-blowing end. If you love Lisa Jewell, Gillian Flynn and Behind Closed Doors, you won't be able to put this down!
 
About the author
I was born in Hampshire but grew up in London where I still live today with my two children. I was originally a dancer who re-trained after a 'disco accident' in Ibiza to become a journalist – I've even won some awards, though I don't like to talk about them – ha! I've been a women's lifestyle writer for over fifteen years and am the former editor and acting editor of the fabulous J-17 magazine and Smash Hits respectively and have written for all the major glossies including Grazia, Company, Marie Claire and More, where I was their resident tell-it-like-it-is advice columnist – loads of fun! I've also written for NME, Loaded and Front magazine (I can be down with the lads too!).
During my journalistic career I've seen and done some amazing stuff, highlights include becoming a nun (for a day), rally racing with the late, great Colin McRae, bunjee jumping off a 350 ft bridge in designer heels, whiskey tasting for a week in Kentucky (don't remember much of that) and hanging out with all manor of A-list celebrities (er, Take That and Jordan, anyone?).
After I had my son I started to write novels (having children does strange things to a person) and had my first young adult novel, Ibiza Summer, published in 2004. My first adult novel (it is a little racy) Chelsea Wives was published in 2012, followed by Wicked Wives in 2013.
When I'm not writing, which isn't often, I like to hang upside down on a pole – I'm a qualified pole fitness instructor, and drink fancy wine (though not necessarily at the same time, that would be dangerous). I adore creating exciting, three dimensional, glamorous and flawed characters against a backdrop of exotic locations. Revenge, sex, sin, glamour, excess, crime and intrigue is my speciality. My next novel, title to come, promises all the above and more!
Buy now
Author social media