Ashley is a grieving widow but finally thinks she has found love again at last. But she disappears and the boyfriend was a stolen identity linked to Ray Flowers, a former police officer. Ray is invited to help in the police investigation but will Ashley be found alive or dead…?
The Lost Daughter is the 5th book in Jane Adams' Ray Flowers series but the first that I have read. It works as a stand alone book but doesn't have the feel of a stand alone book as a past case is hugely relevant to the plot but I don't know if it featured in an earlier book.
Ray Flowers is ensnared into a case when his friend is accused on abducting a widow. He discovers that the lead officer and the foreman of the jury are both dead. Could he be in danger too? There is plenty of drama and tension as Paul Krantz acts out his vendetta on Ray and others. However, as I mentioned above, there seems to be a lot of the past that needs to be explained so I wonder if another timeline could have been used to bring us up to date rather than the memories and explanations.
I really liked Ray's character and wanted him to succeed in besting Krantz. The criminals are clever and devious so the police need to work hard to catch up. I liked the collaboration between Ray and the police, and thoguht the mutual respect was more believeable than some books that focus on antagonism with former offivers.
Parts of the book refer to a sister and two brothers and the sinister, grisly acts they perpetrate. There is plenty of mystery surrounding the identities in the sibling narrative strand and how it connects to the events in the present day.
The Lost Daughter is an interesting mix of mystery, psychological drama, police procedural and crime thriller.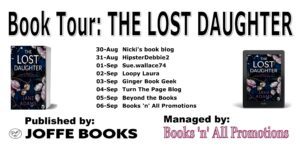 THE LOST DAUGHTER (Ray Flowers #5) by Jane Adams
First she was married. Then she was widowed. Now she's vanished without a trace.
From the bestselling author of The Greenway, nominated for the CWA's John Creasey Award.
PRAISE FOR JANE ADAMS:
'Takes the psychological suspense novel into new realms of mystery.' Val McDermid
'The elaborate duel between hunter and hunted makes absorbing reading.' The Times
Three years ago, Ashley Summers watched the love of her life drop dead in a supermarket car park. Now, her friends all say she needs to move on. Live her life. But she has no idea how . . .
Until she meets Tim Bennett. He's kind, caring, like no one she's dated before.
Ashley calls her family, eager for them to meet the new man in her life. She makes a date with them — a date she never manages to keep. Just like that, Ashley's gone.
Distraught, the family turn to ex-detective Ray Flowers for answers. He doesn't usually take missing persons cases. But this one's personal.
Tim Bennett. The name makes Ray's blood run cold. Tim is Ray's friend and a happily married father of three.
Ashley's new boyfriend isn't who he says he is — and Ray will stop at nothing to hunt him down. But, little does he know, his adversary has eyes on him.
A chilling threat to Ray, and everyone he holds dear, is enough to stop him in his tracks.
This imposter's taken Ashley. What on earth does he want with Ray?
An utterly addictive mystery thriller for readers who love Ann Cleeves, Joy Ellis, Gretta Mulrooney, Cara Hunter, Tana French, Louise Penny, and Elly Griffiths.
Readers love the spine-tingling Ray Flowers Mysteries:
⭐⭐⭐⭐⭐ 'I absolutely loved this book . . . would have gladly given it ten stars had I been able to.' Linda
⭐⭐⭐⭐⭐ 'Complex and fascinating.' Netty
⭐⭐⭐⭐⭐ 'Gripping to the end.' Lyn
⭐⭐⭐⭐⭐ 'A book I didn't want to put down!' Joyce
ALSO BY JANE ADAMS
RINA MARTIN MYSTERY SERIES
1: MURDER ON SEA
2: MURDER ON THE CLIFF
3: MURDER ON THE BOAT
4: MURDER ON THE BEACH
5: MURDER AT THE COUNTRY HOUSE
6: MURDER AT THE PUB
7: MURDER ON THE FARM
8: MURDER AT THE WILLOWS
MERROW & CLARKE
1: SAFE
2: KIDNAP
DETECTIVE MIKE CROFT SERIES
1: THE GREENWAY
2: THE SECRETS
3: THEIR FINAL MOMENTS
4: THE LIAR
DETECTIVE RAY FLOWERS SERIES
1: THE APOTHECARY'S DAUGHTER
2: THE UNWILLING SON
3: THE DROWNING MEN
4: THE SISTER'S TWIN
5: THE LOST DAUGHTER

JANE ADAMS
Jane Adams is the author of more than thirty published crime novels. The first, The Greenway, was nominated for both the Authors' Club award and the CWA John Creasey for best debut novel.
Jane is constantly amazed at where life has taken her. Writing had never been on her 'possible careers' list, but she says once stories take root in your brain, they just have to be told – and she feels very fortunate that people want to read them.
In addition to writing, Jane teaches creative writing, read and mentor for The Literary Consultancy, and is a Royal Literary Fund Fellow and FRSA.
FOLLOW JANE ON