On her deathbed, Peggy's adoptive mother reveals a photo of two women, one of which is Peggy's birth mother. Peggy sets off to discover the truth after identifying one of the women as celebrated actress Louise Baker.
The Lost Mother is set over two timelines. We have Peggy's journey for the truth in the 1950s after her discovery of the photo of her birth mother. We also have the story of her mother Anna in the 1930s as she flees from the attention of Goebbels, hides her Jewish heritage and is regarded as a Nazi traitor by the Americans.
Peggy is a wonderfully tenacious character as she ploughs on with her search for her birth mother. Anna is a much gentler character and endures much suffering. Her inner strength and bravery are obvious but more subtly depicted. Her loyalty to her friends, family and the Germany she loves lead her to unhappiness.
I was not aware of the discrimination against Germans in America and wonder how different the story would have been if Anna had focussed on her Jewish heritage and claimed refugee status. This angle is unique among other historical books I have read (and I have read quite a few!) I liked the way that the author didn't shy away from the more unpleasant elements of the American treatment of Germans nor the plot to create a Nazi satelite on American soil.
The Lost Mother is a powerful story of love against the odds and the ending ties up the narrative starnds and offers hope for the characters' futures.
I have previously reviewed What Only We Know by Catherine Hokin.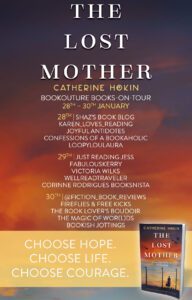 The Lost Mother book description:
She looked at the empty cradle where her baby had been. Her heart felt tattered and empty, like the hollow streets of Berlin after its people began to live in fear.
Berlin, 1934. Homes once filled with laughter stand empty as the Nazi party's grip on the city tightens. When Anna Tiegel's beautiful best friend catches Reich Minister Goebbels' special attention, an impulsive act to save her brings Anna under his unforgiving scrutiny. First, she loses her job, then slowly, mercilessly, she finds her life stripped away. After her father is killed by the Nazis, Anna's final hope is to escape to America with her boyfriend Eddy, but when she reaches his apartment on the agreed date, she finds it deserted. Alone and pregnant, the future feels terrifying, but she must try to protect the life inside her.
Rhode Island, 1957. Peggy Bailey stares in shock at the faded photograph of two laughing women which her beloved adoptive mother struggled to pass on to her before she died, whispering 'It was inside your baby blanket when we brought you home'. As Peggy continues to stare, she realises that she has seen one of the girls before, in the most unlikely of places… Bursting at the realisation, she embarks on a mission which takes her across America to find the truth behind her heritage. Nothing, however, could prepare her for the tragic story her actions uncover…
A poignant and beautiful World War Two story about survival and a mother's enduring search for her child against all the odds. A heart-breaking read for fans of The Tattooist of Auschwitz, We Were the Lucky Ones and The Alice Network.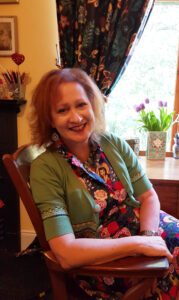 Author Bio:
Catherine Hokin is the author of two World War Two inspired novels set in Berlin, her favourite city. Following a History degree at Manchester University she worked in teaching, marketing and politics, while waiting for a chance to do what she really wanted which was to write full time. Her short stories have been published by iScot, Writers Forum and Myslexia magazines and she was the winner of the 2019 Fiction 500 Short Story Competition. She is a lover of strong female leads and a quest.
Catherine now lives in Glasgow with her American husband. She has two grown-up children – one of whom lives, very conveniently, in Berlin – and a life long addiction to very loud music.
Buy Links: