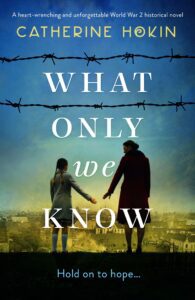 TRIGGER WARNING: What Only We Know deals with the Holocaust and suicide
In 1930s Berlin, Liese's life at her parents' fashion house is thrown into turmoil as the Nazis start their process of eradicating the Jews. First their business then their lives are in danger.
In the 1970s and 80s, Karen Cartwright struggles to deal with the aftermath of her mother Elizabeth's suicide. I enjoyed the setting of Aldershot as it is very close to where I live!
Catherine Hokin's narrative so clearly evokes the two time periods she is describing. I found myself completely immersed in the settings and amongst the characters. I was incredibly frustrated, even angry, at Liese's parents for their constant disregard for their daughter. They are so wrapped up in each other, even as she desperately tries to save them from certain death.
Liese is a very likeable character and I felt devastated by her life story as it unfolds. Karen is more complex as she has the selfishness of childhood at the start of the book and gradually becomes aware of the nuances of her parents' relationship. She feels guilty and unloved as well as blaming her father for not preventing her mother's suicide.
What Only We Know is a clever title as it could refer to the survival guilt specific to survivors of the Holocaust, or it could be a reference to the secrets that Liese has kept since that time. It could mean the secret side of ourselves that we hide to protect ourselves and others from the truth.
This is not a pleasant book to read but it is a terribly wonderful. The atrocities committed by the Nazis must never be forgotten and their victims should be remembered. Some of the events in the book are shocking and harrowing: if we ever become complacent and immune to the horror then we provide the opportunity for evil to reappear.
I have read a few other WW2 fiction novels recently, but what makes this one different and unique is that it looks at the aftermath of the Holocaust and the personal difficulties faced by one survivor. This book also shows the effects of mental health struggles on other family members.
What Only We Know is an incredibly powerful book and I look forward to reading more by this author in the future.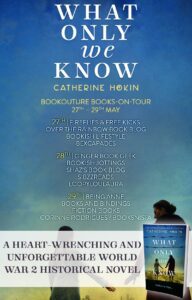 What Only We Know book description:
A door slammed and the unmistakable sound of boots came crashing up the hall. Liese held her little daughter's hand so tightly, the tiny fingers had turned purple. The SS officer's hand was at Liese's throat before she saw him move. 'I can kill you easily, then I can kill your daughter.' He relaxed his grip a little. 'Or perhaps I could kill her first?'
England, forty years later. When Karen Cartwright is unexpectedly called home to nurse her ailing father, she goes with a heavy heart. The house she grew up in feels haunted by the memory of her father's closely guarded secrets about her beautiful dressmaker mother Elizabeth's tragic suicide years before.
As she packs up the house, Karen discovers an old photograph and a stranger's tattered love letter to her mother postmarked from Germany after the war.
During her life, Karen struggled to understand her shy, fearful mother, but now she is realising there was so much more to Elizabeth than she knew. For one thing, her name wasn't even Elizabeth, and her harrowing story begins long before Karen was born.
It's 1941 in Berlin, and a young woman called Liese is being forced to wear a yellow star…
A beautiful and gripping wartime story about family secrets and impossible choices in the face of terrible hardship. Perfect for fans of The Tattooist of Auschwitz, We Were the Lucky Ones and The Alice Network.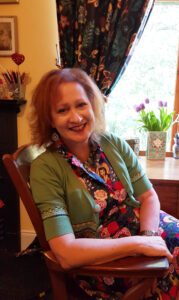 Author Bio:
Catherine Hokin is a Glasgow-based author writing both long and short fiction. Her short stories have been placed in competition (including first prize in the 2019 Fiction 500 Short Story Competition) and published by iScot, Writers Forum and Myslexia. She blogs on the 22nd of each month as part of The History Girls collective.
Buy Links: