Jackie Cooke is six months pregnant but won't let anything get in the way of catching a killer. The victim is a teenager with Down's Syndrome and Jackie feels a close connection as her own brother had the condition and disappeared at a young age. The body has been dismembered and then pieces of another victim are found…
The Lost Ones is the first book in a new series that will feature detective Jackie Cooke and her team.
I have to start by saying that I LOVED Jackie's character. I could really relate to Jackie as she is written in such a natural way that brings her character to life. There is some danger for Jackie and her baby as she chases down suspects which adds extra drama to the story.
I was so frustrated by her family and superiors not valuing her and taking her for granted. She is a working mum who tries to leave the horrors of her job at the front door. Her husband feels stifled being a house husband who wants to be in a band. She took a demotion at work and her replacement sees her as a threat so is trying to force her out (or could she be genuinely concerned about the pressure of the job on a heavily pregnant woman?)
We are introduced to the killer at the beginning of the books as they watch and plan. This is quite sinister and prepares us for the murder. The personal aspect of the case for Jackie is emotional and makes her even more determined to stop the killer. Tension and suspense were maintained well over the course of the book and the pace is quite speedy.
The Lost Ones was a gripping detective thriller and police procedural.

Book Description:
The girl is sitting upright, her dark brown hair arranged over her shoulders and her blue, blue eyes staring into the distance. She looks almost peaceful. But her gaze is vacant, and her skin is cold…
When Detective Jackie Cooke is called to the murder scene, she is shocked by what she sees. Missing teenager Chloe Smedley has finally been found – her body left in a cold back yard, carefully posed with her bright blue eyes still open. Jackie lays a protective hand on the baby in her belly, and vows to find the brutal monster who stole Chloe's future.
When Jackie breaks the news to Chloe's heartbroken mother, she understands the woman's cries only too well. Her own brother went missing as a child, the case never solved. Determined to get justice for Chloe and her family, Jackie sets to work, finding footage of the girl waving at someone the day she disappeared. Did Chloe know her killer?
But then a second body is found on the side of a busy motorway, lit up by passing cars. The only link with Chloe is the disturbing way the victim has been posed, and Jackie is convinced she is searching for a dangerous predator. Someone has been hunting missing and vulnerable people for decades, and only Jackie seems to see that they were never lost. They were taken.
Jackie's boss refuses to believe a serial killer is on the loose and threatens to take her off the case. But then Jackie returns home to find a brightly coloured bracelet on her kitchen counter and her blood turns cold. It's the same one her brother was wearing when he vanished. Could his disappearance be connected to the murders? Jackie will stop at nothing to catch her killer… unless he finds her first…
An absolutely gripping crime thriller that will keep you racing through the pages. Fans of Kendra Elliott, Rachel McLean and Val McDermid will love The Lost Ones.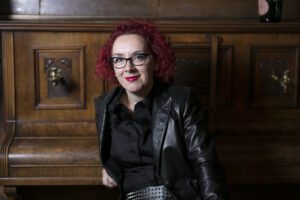 Author Bio:
Marnie Riches grew up on a rough estate in north Manchester. Exchanging the spires of nearby Strangeways prison for those of Cambridge University, she gained a Masters in German & Dutch. She has been a punk, a trainee rock star, a pretend artist and professional fundraiser.
Her best-selling, award-winning George McKenzie crime thrillers were inspired by her own time spent in The Netherlands. Dubbed the Martina Cole of the North, she has also authored a series about Manchester's notorious gangland as well as two books in a mini-series featuring quirky northern PI Bev Saunders.
Detective Jackson Cooke is Marnie's latest heroine to root for, as she hunts down one of the most brutal killers the north west has ever seen at devastating personal cost.
When she isn't writing gritty, twisty crime thrillers, Marnie also regularly appears on BBC Radio Manchester, commenting on social media trends and discussing the world of crime fiction. She is a Royal Literary Fund Fellow at Salford University's Doctoral School and a tutor for the Faber Novel Writing Course.
Buy Link:
Audio:
Listen to a sample here:
You can sign up for all the best Bookouture deals you'll love at: http://ow.ly/Fkiz30lnzdo