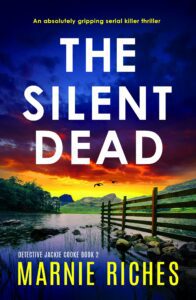 DS Cooke recognises the dead body: it is a former school friend. It looks like suicide but Jackie quickly spots clues that it is murder and is determined to find the killer. It soon becomes clear that other single mothers have been murdered…
The Silent Dead is the second police procedural to feature DS Jackson Cooke as the lead detective. I have previously read (and LOVED) the first book in the series: The Lost Ones. There are mentions of personal events from the last book but no spoilers about the case.
Jackie has had her baby, is divorcing her husband, and is desperately trying to juggle work and home. This book was just as good as the last one. Full of drama and action, a heinous killer who eludes our dedicated detectives, a tense plot delivered at a fast pace.
Jackie's character continues to be the highlight of the series as she negotiates the pressure of work with the guilt of leaving her family. I felt her emotions really clearly: her dedication to her bring the killer to justice and avenge her friend, her frustration and contempt for her superior officer as well as her feckless husband.
There are plenty of clues and suspects for Jackie and her partner Dave to eliminate. I enjoyed the way that the pair interact and banter, obviously caring for each other but also completely focused on the case. There are plenty of twists as they investigate so I was kept guessing until the conclusion.
The Silent Dead is a gripping police procedural with plenty of danger and drama and a fab lead detective.

Book Description:
She was lying as if asleep on the wooden kitchen floor, beneath the fridge covered with a child's colourful crayon drawings. But her frozen expression showed she would never wake again…
When Detective Jackie Cooke is called out to the scene, she's expecting a routine check. The bottle of pills on the kitchen table, next to the note with the single word SORRY written in a shaky hand, make it seem obvious what's happened. But Jackie is shocked when she recognises her old schoolfriend Claire – and she is convinced Claire would never take her own life.
Determined to dig deeper, Jackie soon discovers evidence that proves her right: a roll of notes has been thrust down the victim's throat. And when she finds another woman killed in the same way, she realises someone may be targeting lonely single mothers. As Jackie talks to Claire's distraught children, one of them too young to understand his mummy is never coming home, she vows to find answers.
Both victims were in touch with someone calling himself Nice Guy – could he be the killer? Pursuing every clue, Jackie is sure she's found a match in dead-eyed Tyler, part of a dark world of men intent on silencing women for daring to reject them. But just as she makes the arrest, another single mother is found dead – a woman who never dated at all.
Forced to re-evaluate every lead she has, with her boss pressuring her to make a case against the obvious suspect, Jackie knows she is running out of time before another innocent woman is murdered. And, as a single mother herself, she cannot help but wonder if she is in the killer's sights. Can she uncover his true motivation and put an end to his deadly game… or will he find her first?
A completely unputdownable crime thriller that will have you reading long into the night. Perfect for fans of Kendra Elliott, Rachel McLean and Val McDermid.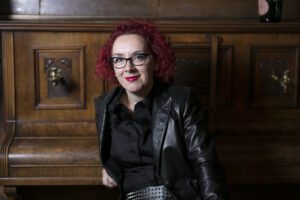 Author Bio:
Marnie Riches grew up on a rough estate in north Manchester. Exchanging the spires of nearby Strangeways prison for those of Cambridge University, she gained a Masters in German & Dutch. She has been a punk, a trainee rock star, a pretend artist and professional fundraiser.
Her best-selling, award-winning George McKenzie crime thrillers were inspired by her own time spent in The Netherlands. Dubbed the Martina Cole of the North, she has also authored a series about Manchester's notorious gangland as well as two books in a mini-series featuring quirky northern PI Bev Saunders.
Detective Jackson Cooke is Marnie's latest heroine to root for, as she hunts down one of the most brutal killers the north west has ever seen at devastating personal cost.
When she isn't writing gritty, twisty crime thrillers, Marnie also regularly appears on BBC Radio Manchester, commenting on social media trends and discussing the world of crime fiction. She is a Royal Literary Fund Fellow at Salford University's Doctoral School and a tutor for the Faber Novel Writing Course.
Buy Link:
Audio Links:
Listen to a sample here:
You can sign up for all the best Bookouture deals you'll love at: http://ow.ly/Fkiz30lnzdo