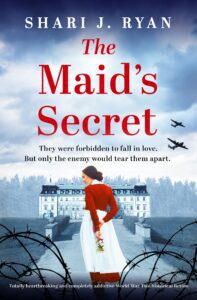 Mila and Ben are a pair of star crossed lovers. Finding romance whilst Europe sinks into war, she is a Romani traveller and he is an aristocratic Jew. Can their love and their lives survive the onslaught of Nazism…?
The Maid's Secret is an historical novel set in the late 1930s and early 1940s.
Mila begins work as a maid for Ben's family. She knows how people judge her family for being travellers. Ben is the black sheep of his family. He can see and fears the imminent Nazi invasion while his family bury their heads in the sand, thinking their status will protect them.
There is so much emotion in this book. Mila is abandoned by her family and is hit hard by the loss. Did they leave to protect her or were they captured? The pair begin a tentative romance but are torn apart. This create a atmospehere of fear, danger and anticipation as we worry for the characters' safety and whether they will find each other again.
The book is written from Mila and Ben's alternating first person viewpoints. I loved this way of bringing both characters to life equally and could understand their actions and feelings clearly. Love and hope feature prominently to contrast with the horrific Nazi attacks on their country, family and culture.
The Maid's Secret is a heartbreaking and captivating novel about love against all odds.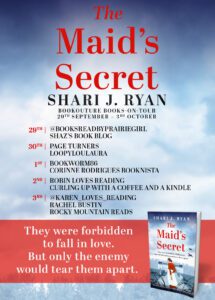 MEDIA PACK
Book: The Maid's Secret 
Author: Shari J. Ryan 
Pub Day: Sept 29th 2022 
About the Book: 
Czechoslovakia, 1940: "We will always have our memories," he says, as the soldiers pull him away. "You will survive this. You are braver than you know. Remember that, always." This heartbreaking 
World War Two page-turner shows that love is more powerful than hatred, bravery can overcome evil, and hope is stronger than darkness.
In the middle of the night, while I am curled in Ben's arms, there is a harsh knock on the door. My blood turns to ice. The love of my life is Jewish, and I am a Romany gypsy maid; every second that we exist in Hitler's Europe, we are in danger. Every day, we have been huddling around a crackling radio, listening for news of this evil war. Every night, we have feared we won't live till dawn.
The banging continues, and we leap out of bed. I can hardly breathe as I open the door, seeing Nazis standing before us. My heart cracks as the soldiers grab Ben. I'm powerless to stop them from shoving him into a wagon, bound for the place of no return.
The love of my life is now imprisoned in wire with thousands of other innocent inmates. For every moment he is trapped behind the gates of hell, he gets closer to death—surviving on scraps of food, and forced to work in gruelling conditions.
The soldiers haven't arrested me yet, but it's only a matter of time. I vow to stay alive for Ben, not to give up hope. I'll stop at nothing to escape the enemy as they hunt me down.
With our fate in the hands of monsters, will we ever see each other again? And will our love for one another save us—or kill us?
Fans of Fiona Valpy, 
The
 Tattooist of Auschwitz
 and
 The Book of Lost Names
 will be utterly glued to this heart-wrenching and utterly gripping World War Two novel which shows that, if you have love, you can survive anything…

Author Bio 
Shari J. Ryan is a USA Today Bestselling Author of Women's Fiction, WWII Fiction, and 20th Century Historical Fiction with a focus on the Holocaust and Pearl Harbor.
Shortly after graduation from Johnson & Wales with a bachelor's degree in marketing, Shari began her career as a graphic artist and freelance writer. She then found her passion for writing books in 2012 after her second son was born. Shari has been slaying words ever since.
With two Rone Awards and over 125k books sold, Shari has hit the USA Today Bestseller List, the Amazon's Top 100, Barnes & Noble's Top Ten, and iBooks at number one. Some of Shari's bestselling books include Last Words, The Other Blue Sky, Unspoken Words and A Heart of Time.
Shari, a lifelong Boston girl, is happily married to her personal hero and US Marine and they have two wonderful little boys. For more details about her books, visit: www.sharijryan.com
Social Media