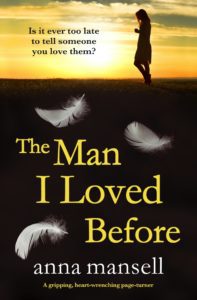 Goodness, what a heartbreaking novel! But also uplifting…
Jem has been declared bankrupt, she has split up with her boyfriend Ben and moved back in with her mum. She writes him a letter to put events and her feelings in to words, planning to burn it but her mum 'helpfully' posts it. Cue a dash to Cornwall to try to retrieve it, coming face to face with the man she still loves…
Trying to move on with her life, Jem starts a new relationship with Mitch but all is not what it seems. Plus she is dealing with her mum's cancer diagnosis.
The chatty style that author Anna Mansell uses it so endearing and natural. Jem has huge potential but fails to see it so, before she can move on in her life and relationships, she needs to see the good in herself that is obvious to others.
The content of Jem's letter to Ben is gradually revealed over the course of the book. The guilt she has been enduring is painful and unwarranted: it just feels oh so real. As always, I hadn't read the blurb so had no idea what to expect. By the end I was blubbing.
The new relationship with Mitch is a tricky one. I felt uncomfortable about his behaviour from the start and his manipulation gradually extends. There is so much warmth in this book despite the mystery and feeling of unease of Mitch's behaviour.
Jems' mum's cancer battle is so sad. It feels honest and reading the author's notes at the end it becomes clear that Anna is writing from personal experience.
This all sounds a bit heavy but actually there is plenty of humour and the turn of phrase lifts the whole book. The raw emotion of The Man I Loved Before is so beautifully written that it captivates the reader.
Such a good book!

Anna Mansell Media Kit:
Title: THE MAN I LOVED BEFORE     
Author:  ANNA MANSELL
PUBLICATION DAY: 10/03/2020
BUY LINKS:
Description:
'Dear Ben, I can only write you this letter because I know you'll never read it…'
When Jem writes to her ex Ben, it's to explain everything. All the secrets she kept from him – from the little lies she'd sometimes tell about how new those shoes really were, or how many glasses of wine she'd had that evening… right up to The Big Thing that happened on the night that changed everything. But she never expects he will actually see what she's written.
She is just writing because she thinks it will help to get the words out. Later, she resolves, she'll burn the letter, and then the past will be in the past for good.
Because Jem is doing fine now. She's busy: working, spending time with her best friend, and looking after her mother, who's in remission from cancer. She's even dating again and has just met a guy who she thinks she could actually fall for. At long last, Jem is really, definitely somewhere close to happy.
But her mum finds the letter and thinks she's doing Jem a favour when she posts it to Ben. And Jem's new, carefully rebuilt life begins to unravel in ways she could never have imagined. Then, when her mother gets ill again, she finds herself asking who has the key to her future. The man she's falling in love with now? Or the man she loved before?
A heartbreaking, beautifully honest novel that will stay with readers long after they finish it. Perfect for fans of Diane Chamberlain, Amanda Prowse, and Susan Lewis.
Author Bio:
Anna had a brush with 'fame' as a magician's assistant back in 1977. She later decided that being sawn in half by her magical performing father, at barely 6 months old, was too submissive a role. She vowed to channel the trauma into something much more pro-actively creative. Having failed at acting, singing and professional murder mystery parties (she was ALWAYs the one to die!), she fell to something much more solitary: writing. Anna lives on a dairy farm in Cornwall with her two children, her husband, and her ex-racing greyhound, Olive Dog.
Author Social Media Links: