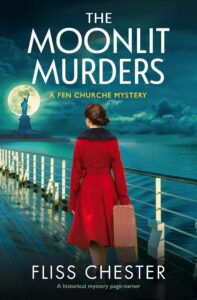 Fenella Churche is excited with the prospect of returning from France to her home. But then she gets an offer she can't refuse and is invited to sail to New York. Her first mystery is the theft of some priceless jewels. Then the situation turns darker when someone has murder in mind…
The Moonlit Murders is the third book to feature Fen. However, it would work as a stand alone novel as there are no spoilers about the mysteries involved in the other books. The personal side to Fen does develop over the course of the series as personal circumstances initiated in the first book have led her to her current situation.
The word that strikes me about Fen is 'plucky'. She feels things deeply but that doesn't stop her determination to find justice for the dead. The ongoing motif of crossword puzzles is used by Fen to straighten out the clues in her head and make connections between the information she gathers to help solve the theft and murder.
The plot itself is a slow burner and the first murder does not happen until halfway through the book. This gives us plenty of opportunity to see the interactions and relationships between the characters. We also get the chance to be detectives by looking for clues and suspicious behaviour among the boat's passengers.
As a history graduate, I enjoyed the historical setting and the attention to detail that the author employs. The class system, the tension towards Germans following the end of WW2, gender inequalities all served to give authenticity to the plot and characters.
The Moonlit Murders is an enjoyable and cosy murder mystery. I have previously reviewed the first two books in the series: A Dangerous Goodbye and Night Train To Paris.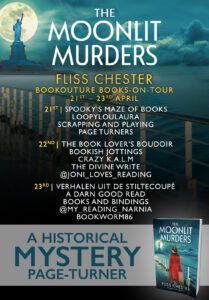 The Moonlit Murders b
ook description:
When a journey to New York is interrupted by missing diamonds and a body in the lifeboat, there is only one woman who can help: Fen Churche!
1945. Fen Churche follows her dreams and sails for New York. She books passage on a steam ship from France to America, excited to dance the night away in the glamorous ballroom and play games on deck. Nothing will stand in the way of her trip, not even when an eccentric heiress's diamond tiara goes missing…
Looking forward to relaxing with her favourite crossword puzzles, Fen's quiet passage is horribly disrupted by another crime – this time a murder. Fen finds Genie, a young actress bound for Broadway, strangled in her own cabin. With no police on board and a frantic captain, Fen decides to do a little snooping of her own.
When another body turns up, hidden in a lifeboat, whilst the ship is in the middle of the Atlantic, Fen feels sure these dreadful crimes are linked. Through her sleuthing she meets light-hearted lieutenants returning from the war, charming cabin boys and snooty first-class passengers who look down their nose at her. But it isn't until Fen realises that one person is missing from the passenger list that she is finally on the murderer's trail.
With only rolling waves and sea mists for company, can Fen solve the case before they dock in New York and the killer escapes for good?
You'll be utterly hooked from page one of this warm and witty cozy! An absolute treat for fans of Agatha Christie, T.E. Kinsey and Jacqueline Winspear.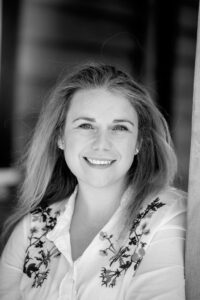 Author Bio:
Fliss Chester lives in Surrey with her husband and writes historical cozy crime. When she is not killing people off in her 1940s whodunnits, she helps her husband, who is a wine merchant, run their business. Never far from a decent glass of something, Fliss also loves cooking (and writing up her favourite recipes on her blog), enjoying the beautiful Surrey and West Sussex countryside and having a good natter.
Buy Links: