Fenella Churche is devastated by the disappearance and supposed death of her fiance Arthur during WW2. He was in France working undercover to undermine the Nazis but never came home. She is determined to find out the truth even if it is bad as she fears.
Fen travels to the village in France where he was last seen and starts work at a vineyard. But soon a murder occurs…
It was rather lovely to be immersed in the French countryside in a different era. The traditional Christie style use of cyanide felt familiar. The descriptions were rich and I could easily visualise the characters and the locations.
The historical depictions of the aftermath of the Second World War with the wounded pride of the French and their revulsion towards collaborators felt natural and realistic from my own knowledge of the era (I'm a history graduate).
A Dangerous Goodbye has a wonderful lead character in Fen. Her heart is broken for her lost love but she is determined to find out the truth about his death. I wish we had had more chance to see the pair as a couple before war tore them apart.
Fen and Arthur's relationship was full of crosswords and cleverness and this is represented in the narrative. The plot is littered with crossword puzzles which had my brain working overtime. It has been some time since I did a cryptic crossword so I was a little rusty but managed to get some of the correct answers!
I did guess the culprit but enjoyed the revelations and motives. The ending leave plenty of potential for a series of sequels and I look forward to seeing where Fen's adventures take her next and how she moves on from Arthur's death.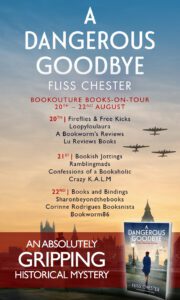 A Dangerous Goodbye book description:
Your lost love never came home after the war. Would you risk everything to find out what happened to him?
1944. While war rages in Europe, Fenella Churche is doing her bit in the green fields of England. But when she finds a letter addressed to her on the scrubbed farmhouse table, she knows the news won't be good. She hasn't heard from her fiancé Arthur since he was posted to France on a dangerous undercover mission, and from his very first words she knows he may not be coming back.
I fear this may be my last letter to you, my darling, Arthur writes. Fen won't give up hope and calls the war office, wanting to know if Arthur is still alive; they refuse to tell her anything. Searching for answers, she returns to his letter, but parts of it just don't make sense. Through her tears Fen realises that her darling Arthur is giving her all the clues she needs to find out what happened to him.
1945. With the war behind them and nothing left for her in England, Fen travels to the deceptively pretty French village where she thinks Arthur might be, but there's no sign of him. She's close to giving up when she finds his silver cigarette case and another letter full of clues. But when the local priest is killed, it's clear someone wants to keep wartime secrets buried. If Arthur, a brilliant spy, was outwitted and betrayed, can Fen stay alive long enough to find out what happened to the man she loves?
A gripping story of war, mystery, espionage and murder. Fans of Jacqueline Winspear, Charles Todd and Rhys Bowen will absolutely adore this unputdownable World War Two murder mystery.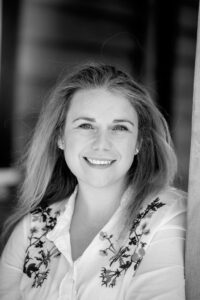 Author Bio:
Fliss Chester lives in Surrey with her husband and writes historical cozy crime. When she is not killing people off in her 1940s whodunnits, she helps her husband, who is a wine merchant, run their business. Never far from a decent glass of something, Fliss also loves cooking (and writing up her favourite recipes on her blog), enjoying the beautiful Surrey and West Sussex countryside and having a good natter.
Twitter:  @SocialWhirlGirl
Buy Links: