Cressida Fawcett travels to Cornwall with her friend Dotty and dog Ruby for a fancy dress ball. During the party, Cressida's former beau Randolph Canterbury keels over and dies. The local police believe he was poisoned so Cressida wants to help catch the killer…
Death by a Cornish Cove is the second book to feature Cressida Fawcett. I have not read the first book and there are mentions of events but no spoilers.
Cressida has slightly mixed emotions as she meets up with Randolph again as he prepares to celebrate his engagement to another woman. When she discovers he was murdered, she persuades the local police to invite DCI Andrews from Scotland Yard to investigate. Based on their previous encounter, she hopes that he will allow her to join in with the hunt for the killer.
The writing style is warm and brings Cressida's character to life. She is very determined and at times finds herself a little frustrated at being confined by the 1920s social expectations. I enjoyed the inclusion of her dog Ruby which added extra touches of humour.
I felt that the historical and geographical setting were authentic and the author has researched the era and area well. As expected from a cosy murder mystery, there is no violence or forensic detail. I liked the traditional feel to the book with the focus on looking for clues and interviewing suspects as the method to conduct the investigation (ah, the days before forensics and technology!)
Death by a Cornish Cove is an enjoyable cosy murder mystery.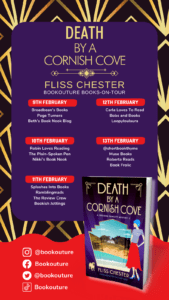 Book Description:
A seaside party at a Cornish mansion with plenty of fizz, what could be more perfect? But something fishy is afoot… a killer lurks among the guests, and only Cressida Fawcett can stop them.
When Cressida Fawcett is invited to stay at Penbeagle House on the Cornish coast for a fancy-dress ball, she is looking forward to sipping rum cocktails clad as a pirate, watching the red-sailed boats go by and relaxing in the sea air with her good friend Dotty. But before they can raise their glasses to toast Cressida's former flame Lord Canterbury's engagement, he drops dead in front of the horrified guests.
The local doctor determines that Lord Canterbury was poisoned, and soon Detective Chief Inspector Andrews is on his way from Scotland Yard. But Cressida is dismayed by the murder of the intrepid explorer who once asked for her hand in marriage, and she cannot simply leave the case to the police. Together with Dotty and her little pug Ruby, Cressida searches for clues only to discover that many of the guests have a motive for murder. Did an irate journalist or a bitter fellow explorer send Lord Canterbury on his untimely final journey?
And when a young maid is found dead, floating in the shimmering waters of the cove, Cressida knows time is running out to catch the killer. Could aclue hidden among some rather pungent crab sandwiches help her solve the case before there is another murder?
A witty and totally addictive cozy mystery packed with intrigue and glamour. Perfect for fans of Agatha Christie, T.E. Kinsey and Lee Strauss.

Author Bio:
Fliss Chester lives in Surrey with her husband and writes historical cozy crime. When she is not killing people off in her 1940s whodunnits, she helps her husband, who is a wine merchant, run their business. Never far from a decent glass of something, Fliss also loves cooking (and writing up her favourite recipes on her blog), enjoying the beautiful Surrey and West Sussex countryside and having a good natter.
Buy Link:
You can sign up for all the best Bookouture deals you'll love at: http://ow.ly/Fkiz30lnzdo