1925, Cressida Fawcett is visiting Ayrton Castle in Scotland to offer interior design advice. Her trip is interrupted by the murder of the previous owner in a locked room. Cressida begins to investigate while she waits for DCI Andrews to arrive but is she putting herself in danger?
Death in the Highlands is the third book to feature Cressida and DCI Andrews. I have previously reviewed the scond book in the series, Death by a Cornish Cove. There are mentions of the earlier cases but no spoilers about the culprits.
Cressida is on hand for the discovery of a body, stabbed to death while in a locked room. How did the killer escape and could it really be someone on the estate? Luckily Andrews is on holiday in Scotland but it still takes him a while to arrive so Cressida gets started on the investigation on her own.
There is a whole host of suspects as Hamish had a lot of enemies among his employees, family and wider social circle. Cressida searches for motive and finds plenty but which were worth killing for? Andrews doesn't arrive until halfway through the book so Cressida has already made significant progress in the hunt for the killer all by herself.
There are lots of clues and red herrings to keep the reader guessing. Cressida's dog Ruby adds a touch of humour and the overall tone of the book is quite light despite the murderous content. I felt that the historical and geographical setting provided an interesting backdrop to the plot and characters.
Death in the Highlands is an enjoyable historical cosy murder mystery.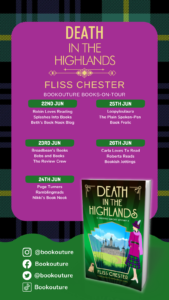 Book Description:
There's a dangerous killer lurking by this loch… and only canny Cressida can track them down.
Scotland, June 1925.Socialite Cressida Fawcett has been invited to cast her interior design eye over the Stirling family's new seat, Ayrton Castle, up in the Scottish Highlands. Thrilled to be spending the summer at the historic estate, Cressida fills her suitcase with this season's hunting jackets – and some tartan for her little pug Ruby, of course!
But before the party is ready to tramp through the glens, shocking news puts paid to their plans. Hamish Glenkirk, former owner of Ayrton, has been found dead inside a turret room of the castle. The door was bolted from the inside, and the room is three storeys up, surrounded by impenetrable stone walls… How did the murderer get in? And out?
With Detective Andrews of Scotland Yard at least a day's journey away, Cressida knows she needs to get to the bottom of this case – and fast. There's no end of suspects among the hunting party. Could it be the local doctor whose wife left him for a fling with the now-dead laird? Or is the gamekeeper hiding secrets under his kilt?
Just as Cressida is closing in on the truth, a blood-curdling scream echoes through the mist. Another member of the party, and one of the suspects, has been shot. With a wee dram in hand, can Cressida find the killer before the bagpipes play for another victim?
An unputdownable and gripping cozy mystery which fans of Agatha Christie, T.E. Kinsey and Lee Strauss will love.

Author Bio:
Fliss Chester lives in Surrey with her husband and writes historical cozy crime. When she is not killing people off in her 1940s whodunnits, she helps her husband, who is a wine merchant, run their business. Never far from a decent glass of something, Fliss also loves cooking (and writing up her favourite recipes on her blog), enjoying the beautiful Surrey and West Sussex countryside and having a good natter.
Buy Link:
You can sign up for all the best Bookouture deals you'll love at: http://ow.ly/Fkiz30lnzdo