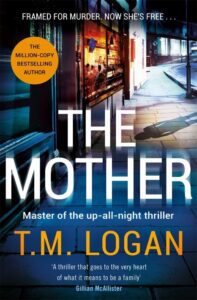 Heather Vernon has served half of her sentence for killing her husband. She leaves prison determined to prove her innocence and be reunited with her sons. But whoever really killed Liam will do anything to stop the truth from being revealed…
The Mother is a psychological and crime thriller set in Bath in England. I started reading this book days after watching The Catch on Channel 5 which is an adaptation of one of T.M. Logan's other books (which has shot to the top of my TBR pile!)
Heather has been wrongfully convicted of murdering her beloved husband. Her heart feels broken from being separated from her two boys and she is desperate to get them back despite the terms of her parole.
The book is written mostly from Heather's first person viewpoint which enables us to see her emotions and descisions so clearly. There are also some chapters from 2013 to show the police interviews and the way evidence mounted up against her. Her frustration and desperation is palpable and her emotional responses are easy to relate to.
Heather is supported by Jodie who is also on parole, Owen who is a conspriracy theorist and disgraced journalist, and Amy her sister in law. Together they try to uncover the truth but it soon becomes clear that all of them are in terrible danger. This creates even more tension and unease as the risks are revealed. There were some huge twists that I certainly wasn't expecting.
The Mother is a grippling thriller and I couldn't put it down!

The unmissable up-all-night thriller from the million-copy bestselling author of NETFLIX hit THE HOLIDAY
THE MOTHER
By T.M. Logan
Master of the up-all-night thriller
Publishing in Hardback, eBook, and Audio from Zaffre on 2nd March 2023
Framed for murder. Now she's free . . .
A woman attends a funeral, standing in the shadows and watching in agony as her sons grieve. But she is unable to comfort them – or reveal her secret.
A decade earlier, Heather gets her children ready for bed and awaits the return of her husband Liam, little realising that this is the last night they will spend together as a family. Because tomorrow she will be accused of Liam's murder.
Ten years ago Heather lost everything. Now she will stop at nothing to clear her name – and to get her children back.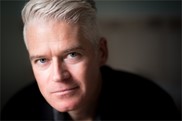 T.M. Logan is a Sunday Times bestseller whose thrillers have sold more than 1 million copies in the UK and are publish ed in 18 countries around the world. The Holiday was a Richard and Judy Book Club pick and will soon be a major TV drama. Formerly a national newspaper journalist, he now writes full time and lives in Nottinghamshire with his wife and two children. Follow him on Twitter @TMLoganAuthorFollow him on Twitter, Facebook & Instagram