Beth discovers a murder victim on her first day in a new job at a prestigious school. She fears she may become the top suspect as the victim was her immediate boss so she sets out to find the real killer and prove her innocence.
The Murder Mystery is the first of a 7 book cosy murder mystery series that Bookouture has published this month.
Beth is a character who is really easy to like. She is a widow, devoted to her young son. She wants some stability for him so applies for an assistant archivist job at Wyatts School in the hope that he will get a scholarship there in due course. Although excited by her new role, she feels underqualified and the head archivist acts too friendly for her liking. She therefore has mixed emotions when he is found dead and she is considered to have a motive (wanting his job, anger at his lecherous behaviour).
At the school gate and in her new job, Beth feels like an outsider which was really easy to relate to. The setting allows for plenty of suspects and Beth eagerly sets about overcoming her social shyness and conducting her own investigation. I found the pace to be reasonably slow so that we get to know Beth properly. There isn't much violence or information about the murder or body which fits in with the cosy murder mystery genre.
The Murder Mystery is a good start to a series and I will be reviewing the other books shortly.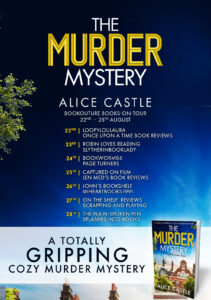 Media Pack
Author:      Alice Castle
Book:        The Murder Mystery (plus 6  other books in the Beth Haldane series)
Publication Day:  August 22nd 2022
Buy link(s) 

Descriptions:
The Murder Mystery:
Meet Dulwich Village's most daring resident, Beth Haldane. Mother to a sweet little boy, owner of a sulky cat… and solver of mysteries?
It's a crisp spring day in Dulwich Village when Beth arrives at the intricate iron gates of Wyatt's School for her new job as the historian's assistant. But on a lunchtime stroll admiring the pristine grounds of this five-hundred-year-old institution, Beth is shocked to stumble over the body of her new boss Alan Jenkins: spectacles askew, his mustard-yellow tweed jacket covered in blood.
Gossip about outsider Beth spreads like wildfire. The parents in the playground are all whispering: did she bump him off to get her hands on his job?
Desperate to clear her name and protect her own little boy, Beth turns her research skills to hunt for the true killer. She soon discovers Alan rubbed his fellow teachers up the wrong way… could the handsome headmaster be involved? Why did Beth see a flash of the school receptionist's bright pink jumper at the murder scene? And what is the groundskeeper hiding?
When Beth returns from her sleuthing to find her office in disarray and documents missing from the archives, it's clear this prestigious school hides a deadly secret. But with parents and teachers panicking that the long-protected reputation of Wyatt's is under threat, will Beth herself be in the murderer's sights before the school bell rings?
Wander down the cobbled streets of Dulwich, where nothing is as perfect as it seems! Fans of Agatha Christie, The Thursday Murder Club and Faith Martin won't be able to put down this deliciously gripping mystery.
This book was previously published as Death in Dulwich.
The Murder Museum:
Caring mother, school historian, and amateur sleuth Beth Haldane loves to while away an afternoon in the Museum of Art. But will she be next in the frame… for murder?
Beth Haldane is gazing at enchanting paintings of the rolling English countryside when her daydream is rudely interrupted: by the discovery of a teenage girl unconscious on a marble bench.
Shocked, Beth realises this is no snoozing schoolchild. Someone dastardly has carefully crossed the girls' hands across her white dress, as if she's in a painting herself. And the girl's discarded red backpack found in a corner of the museum is totally empty. Is someone suspicious hiding evidence? And who would want to harm this innocent soul?
With poor Sophia in hospital, and the parents of Dulwich Village in uproar that their little darlings might be next, Beth pesters police for updates. And with her keen eye for detail and research skills, Beth is perfectly placed to do some sleuthing of her own… but why are Sophia's gaggle of friends so close-lipped? Has some typical teenage drama taken a dark turn?
But her questions are ruffling feathers at every turn. With Sophia's life hanging by a thread, can Beth find her attacker before it's too late – and before the finger points at Beth herself?
A deliciously gripping cozy mystery that's perfect for fans of fans of Agatha Christie, The Thursday Murder Club and Faith Martin.
This book was previously published as The Girl in the Gallery.
The Murder Question:
When her best friend goes missing, amateur sleuth Beth Haldane is determined to do some digging of her own… but can she crack the mystery before it becomes a murder?
Beth Haldane is worried. First her dear friend and fellow single mother Jen suddenly gets married to a new man who seems too perfect to be true, then she moves out of leafy Dulwich Village – and now seems to have disappeared without a trace.
Beth knows Jen would never leave her little daughter to handle playground predicaments or her sneaky stepmother alone. Heading to Jen's new home for answers, Beth's knocks on the periwinkle-blue front door go unanswered. Police are convinced the lovebirds are on an extended honeymoon: but Beth suspects Jen's new husband is up to no good… why does no-one in Dulwich know where he came from? Are his looks hiding a dark past?
With Jen's unpleasant ex popping up at every turn, and gruff but handsome policeman DI Harry York insisting Beth should leave things to the professionals, it's going to take all her sleuthing skills to track Jen down. But searching Jen's overgrown garden for clues, Beth hears a twig snap… and next thing she knows, she's woken up in a hospital bed.
Someone in normally peaceful Dulwich Village will do anything to stop her reaching the truth. Can Beth get to the bottom of this mystery before she's the next to disappear?
A totally addictive murder mystery that's perfect for fans of Agatha Christie, The Thursday Murder Club and Elly Griffiths.
This book was previously published as Calamity in Camberwell.
The Murder Plot
As snow covers perfect little Dulwich Village, amateur sleuth Beth Haldane is certain something's amiss. There's a suspicious solicitor, poorly pooches and… a plot to murder?
Beth Haldane is getting ready for a quiet Christmas with her son and their beloved grumpy cat when fellow single mother Nina begs her for help. Something fishy is going on with Mr Potter, the solicitor she works for… business is slow, with the accounts empty. So why does his wife have such an impressive collection of designer dresses?
Unable to resist a puzzle, Beth agrees to cover Nina's job as a receptionist to get a closer look. But just as she finds a mysterious key hidden away in the office, Mrs Potter arrives in floods of tears with terrible news for her husband. Their precious pet, Lancelot the Great Dane, has been found dead in his basket. Mrs Potter suspects a poisoning…
Beth is shocked anyone would harm a beloved family pet, but the Potters are definitely hiding something. When an elderly widow comes to Mr Potter's office begging for help with her will, Beth starts to suspect foul play… is Mr Potter taking advantage of this sweet old lady? And why is he curiously cool, when his whole family are distraught about Lancelot?
Beth is determined to find what the mysterious key unlocks, discover Mr Potter's secrets and get answers about the local pet-killer before they set their sights on an owner next time. But is Beth getting closer and closer to her own sticky end?
A totally addictive cozy mystery perfect for fans of Agatha Christie, The Thursday Murder Club and T.E. Kinsey.
This book was previously published as Homicide in Herne Hill.
The Murder Walk:
A pleasant stroll in the park, catch ups over coffee and… a body among the spring bulbs?
Single mum and school historian Beth Haldane has promised her new beau, Detective Harry York, that her sleuthing days are behind her. But when she stumbles over the body of local artist Mark Smeaton while ambling in the park, it's clear a dangerous killer is on the loose in peaceful Dulwich Village. Shocked, Beth can't resist delving into the mystery.
Snooping around the nearby cozy cafes, Beth listens carefully to gossip and soon learns Mark's graffiti-style art was famously controversial. There are plenty who might want him gone. Was it the suspiciously charming gallery owner? A disgruntled resident offended by Mark's art? Or an old school chum with a dark secret about Mark's true inspiration?
A dinner party hosted by a dear friend soon gives Beth the chance to grill all her suspects over wine and nibbles. But following a lead back to the scene of the crime, Beth's search of a hollow tree throws up a mysterious envelope that stops her in her tracks… will her sleuthing get her in hot water before she can find the villain, and before there's another fatal plot in the park?
An absolutely gripping mystery that fans of Agatha Christie, T.E. Kinsey and The Thursday Murder Club won't be able to put down!
This book was previously published as Revenge on the Rye.
The Murder Club:

 
A club of card enthusiasts gather in a magnificent mansion. But someone has been dealt a deadly hand…
In peaceful Dulwich Village, a group of elderly residents meet every week for Bridge Club. Green cloths are laid over square tables, the deck is carefully dealt, and every beady eye is on the lookout for cheating.
Amateur sleuth Beth Haldane has never understood the rules, but she's drawn into the drama when her mother's bridge partner Alfie Poole is found dead. He was last seen heading out for a breath of fresh air after a particularly tricky hand.
Beth knows poor Alfie was a sweet old man, but when she learns he was poisoned it's clear someone wanted him gone… Suspecting skulduggery, Beth questions each member of the club. Did the retired doctor slip Alfie a sedative? Is the ex-English teacher quite as clumsy as she seems? Or was it Alfie's daughter, wanting her inheritance early?
Organising a re-enactment of the day Alfie was killed, and making sure exactly the same cards are dealt, Beth keeps a close eye on who comes up trumps… but then her own mother Wendy starts choking on her cup of tea. Thankfully Wendy is rushed to hospital just in time: but the poisoner is still on the loose. If Beth plays her cards right, can she catch the killer – or is the deck stacked against her?
An utterly gripping murder mystery, perfect for fans of T.E. Kinsey, Agatha Christie and The Thursday Murder Club.
This book was previously published as The Body in Belair Park.
The Murder Hour:
A ticking clock, a grand Edwardian home… and a countdown to murder?
Beth Haldane stands on a quiet street outside an ornate front door, glances down at her watch and taps her foot impatiently. Since her partner Detective Harry York moved into her little house in Dulwich Village, things are a bit too snug. Now Beth whiles away the hours waiting for house viewings and searching for the perfect new home for them and her little boy.
When a flustered young woman finally arrives and introduces herself as the estate agent, Beth is looking forward to taking in the exposed red bricks and wooden floorboards of this charming Edwardian property. But when she peeks into a built-in wardrobe, a lifeless body is a greeting she wasn't expecting.
Panicked, the estate agent soon identifies the man as her boss Richard Pettit.With police on the way, Beth takes charge of scouting for clues. Why is the house echoingly empty of furniture except for a carefully folded pile of clothes in one room? Was the estate agent late because she was bumping off her boss? And what are the nosy neighbours hiding?
With rumours spreading all over Dulwich that Beth herself was the intended victim, when she is sent an anonymous message warning her off the case she knows she's on the right track. But can she catch a killer before her own time runs out?
A deliciously addictive cozy mystery read that fans of The Thursday Murder Club, Agatha Christie and T.E. Kinsey will adore!
This book was previously published as The Slayings in Sydenham.

Author Bio:
Before turning to crime, Alice Castle was a UK newspaper journalist for The Daily Express, The Times and The Daily Telegraph. Alice is an avid reader of crime fiction, her favourite stories are cozy crimes with a strong sense of place. When she couldn't find a series about her beloved south London, she decided to write her own – and single mum amateur sleuth Beth Haldane was born. Alice also writes twisty psychological thrillers for HQ Digital under the name A.M. Castle. The Perfect Widow was a top selling audiobook in 2019 and The Invitation hit the top 50 on Amazon UK in 2021. Alice lives with her two children and two cats and, if she isn't writing or reading a whodunit, she'll be watching one on telly.
Author Social Media Links