Eve is an audio book narrator whose life fell apart last year when her dad died, her husband left her and the author Philippa Roberts disappeared. Now a manuscipt has been found hidden at Philippa's house and Eve is asked to return to her career and narrate the book. As she reads, she believes that Philippa has hidden a message within the text giving clues to her disappearance…
The Narrator is a psychological thriller set in the UK.
Philippa disappears on the night of a prestigious awards ceremony. Her friend Eve is concerned for her safety but the police investigation has run cold. A manuscript of the 10th book in the series is discovered hidden and Eve is convinced that the obvious mistakes in the text are clues which will lead to finding Philippa. The mystery is sustained well over the course of the book.
Meanwhile, Eve's personal life is in disarray. She has been forced to move in with her mum and abandon her career following her father's suicide and her husband's infidelity. I was spitting with rage at Eve's unreasonable and sneaky husband Hugo. His behaviour constantly undermines her and I was eager for her to get the better of him.
The book is written from Eve's first person perspective as well as that of the third person view of the author being held captive and an obsessed superfan. All of the viewpoints are intensely personal and create tension and concern about their situations.
The Narrator is an entertaining novel with an intriguing mystery, believable characters and a big twist.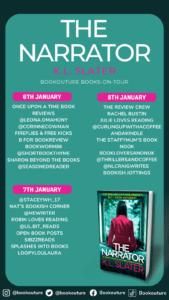 Book Description:
What if the chance of a perfect life… put your daughter in grave danger?
Being a single mother is tough, but I'd do anything for my little girl Scarlet. I'd given up on my career as a voice actor when the call came, but suddenly I was the new narrator for a secret book from bestselling author Philippa Roberts, who has been missing for eight months. It was a lifeline for me and my daughter.
I hated that it meant leaving Scarlet with my ex in his perfect new home with his perfect new girlfriend. But I knew it was the right thing to do.
But as I start reading Philippa's new novel, I start to wonder if it's no coincidence that I've been chosen to narrate it. There's something hidden in the pages of this book, I'm sure of it. Some clue to Philippa's disappearance. And I don't feel safe. I think I'm being watched. My room has been searched.
And then my ex's girlfriend calls in tears and everything starts to click together. If I don't find answers fast, I'll lose more than my second chance. I'll lose my daughter.
A completely gripping thriller that will hook you in from the first page and leave you gasping out loud. Fans of Our House, The Woman in the Window and The Wife Between Us won't be able to put The Narrator down!
Author Bio:
For many years, Kim sent her work out to literary agents but never made it off the slush pile. At the age of 40 she went back to Nottingham Trent University and now has an MA in Creative Writing.
Before graduating, she received five offers of representation from London literary agents which was, as Kim says, 'a fairytale … at the end of a very long road!'
Kim is a full-time writer and lives in Nottingham with her husband, Mac.
Sign up to be the first to hear about new releases from K.L. Slater here: https://www.bookouture.com/kl-slater
Buy Link:
You can sign up for all the best Bookouture deals you'll love at: http://ow.ly/Fkiz30lnzdo