TRIGGER WARNING: this book deals with domestic and sexual violence
After a whirlwind romance, Tess and Daniel Myers marry and relocate to Bath. But Tess is beginning to have doubts and Daniel's behaviour concerns her. Meanwhile, elderly Martha is haunted by the past and convinced that Daniel hides a dark secret…
The prologue of The Next Wife instantly draws the reader in as we see a man attacking a woman and child. Next we see Martha, confused but determined to expose the truth although it is not clear what that is. Then we see the deterioration of the relationship between Tess and Daniel as the facade of perfection disintegrates.
Tess is a very likeable yet vulnerable character as is Martha. Tess begins the book excited for her future but is soon regretting her marriage. There is a huge sadness attached to the older character as we see Martha's mental deterioration in tandem with her determination to reveal Daniel's identity to the world.
The Next Wife is an intense psychological thriller. Daniel systematically and insidiously takes over all aspects of Tess' life and removes her freedoms, from her choice of clothes to her career. I wanted to shout at her to run away from him!
As a fan of medical thrillers, I enjoyed the added dynamic of the doctor and nurse couple and the effect this has on the plot development. The power play occurs in their personal and professional lives with devastating consequences.
I really enjoyed The Next Wife and look forward to reading more from author Liz Lawler in the future.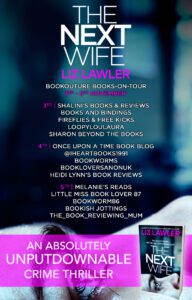 Book Description:
I should never have married him. I ignored the warnings. It's what you do when you're in love. Ignore what you don't want to see.
My husband is everything I ever dreamed of. A handsome, successful doctor who swept me off my feet.
Our new life together is perfect.
He's perfect.
But am I good enough for him? I never seem to get anything right. And I'm starting to feel a little afraid of the man I married.
He's taken away my bank card and my phone. I don't know what to think or what to do. I gave up everything for him and now I'm trapped.
Then a stranger comes to our door. She tells me that I can't trust my husband.
That I should ask him what happened to his first 
wife

.
Totally gripping, chilling and with a twist you won't see coming, The Next 
Wife

 is a dark, heart-stopping story of what really goes on behind closed doors. Fans of My Lovely 

Wife

, B A Paris and JP Delaney will be completely enthralled by this addictive read.

Author Bio:
Liz Lawler grew up sharing pants, socks, occasionally a toothbrush, sleeping four to a bed. Born in Chatham and partly raised in Dublin, she is one of fourteen children. She spent over twenty years as a nurse and has since fitted in working as a flight attendant, a general manager of a five star hotel, and is now working with trains. She became an author in 2017 when her debut novel Don't Wake Up was published by Twenty7.
Buy Links: