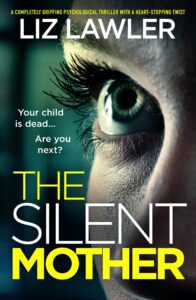 TRIGGER WARNING: this book centres on the aftermath of suicide
Dr Ruth Bennett is amazingly proud of her only child Thomas who has just qualified as a doctor. She is concenred and confused when she receives a voicemail from him to ask her to attend court. But Thomas never shows up and is found dead, an apparent suicide. Ruth is convinced of her son's innocence and starts to re-trace his final days to search for the truth…
The Silent Mother is an emotional novel about a mother's steadfast belief in her son's innocence. It has both psychological and mystery elements as Ruth begins to plough through the evidence which may have resulted in her son's suicide.
Ruth is a devoted mother. She has heartache in the past due to the death of Thomas' dad before he was even born and now her son's early death. The criminal case baffles her and she is convinced of his innocence. Thomas left behind a diary with tantalising hints about his life which may have had an impact on his death.
As well as Ruth's perspective, we also see chapters written about Rosie, one of Ruth's patients. Her friend has disappeared and Rosie's mental health is suffering, linked to an event in her past as well as her anxiety in the present. Both Rosie and Ruth are portrayed sympathetically and their emotional responses to events are understandable and relatable.
I found the book a little slow paced as Ruth investigates. She shows more self restraint than I would! There are several characters who all had an involvement in Thomas' life and now she needs to link the clues together to find the truth. The convergence of the two plotlines takes a while to happen, leaving plenty of time for the reader to attempt to guess the twists.
The Silent Mother is a slow burning but intensely emotional psychological novel. I have previously reviewed The Next Wife by Liz Lawler.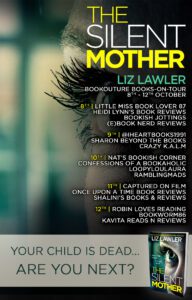 The Silent Mother book description:
The phone rings. It's the call every parent dreads. My beautiful son is dead.
He'd been the centre of my world from the moment he was born. Now my perfect life is shattered. In the midst of my grief, I receive an anonymous letter telling me that Tom's death was not an accident.
So I've come to the apartment where my only child lived to find out what really happened. Tom was newly qualified as a doctor, he had a bright future ahead of him. Nothing about the day he died makes sense.
As I get to know the medical staff Tom worked with and his friends living nearby, I'm drawn into a tangled web of lies. Whispers and rumours circulate along the hospital corridors and I start to question how well I really knew my precious boy.
But a mother knows when things don't add up.
His girlfriend has been keeping her pregnancy secret.
His best friend betrayed him in the weeks before Tom's death.
His neighbours all have something to hide.
Which one of them would kill? As I get closer to the truth, the stakes become more dangerous. And I realise I could be next on their list…
Author Bio:
Liz Lawler grew up sharing pants, socks, occasionally a toothbrush, sleeping four to a bed. Born in Chatham and partly raised in Dublin, she is one of fourteen children. She spent over twenty years as a nurse and has since fitted in working as a flight attendant, a general manager of a five star hotel, and is now working with trains. She became an author in 2017 when her debut novel Don't Wake Up was published by Twenty7.
Buy Links: