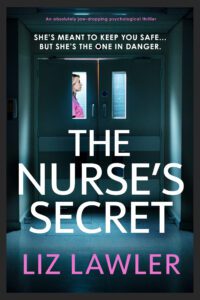 Sarah Shaw is a nurse on duty when the police arrive to tell her that her husband is dead. They had only been married a few months and had met while she was nursing his dying first wife. It appears that William has been murdered and the investigating police officer is Sarah's ex…
The Nurse's Secret is a mix of crime/police procedural and psychological thriller set in the UK.
Sarah is newly widowed and her husband died in suspicious circumstances. She moves in with a colleague but is unsettled by Kathleen's overbearing attitude. However, she shows little emotion as she is numb from the devastating news and the worry about the police investigation. The couple had not been married long and his first wife had only died a few months earlier.
The book is written from three third person perspectives: Sarah, Nick and Charlie. The latter two are detectives and Nick was formerly in a relationship with Sarah which was kept a secret from his friend and mentor Charlie.
Secrets are hinted at throughout the book and gradually revealed. I had forgotten the prologue for the first third of the book and then my brain started racing trying to work out how the events and characters link together. Charlie and Nick have been keeping secrets from each other and this threatens the whole investigation.
I really enjoyed the police procedural elements of the book and felt included in the case thanks to two of the perspectives. There is the forensic detail of the post mortem which is very graphic and may upset some readers. The detectives are affected by this experience which shows us their softer side. In contrast, Sarah's viewpoint focuses more on the psychological elements as she evaluates her relationships.
The Nurse's Secret is a well plotted novel with plenty of secrets to reveal.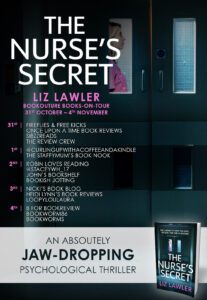 Book Description:
Loving wife. Caring nurse. Liar.
You trust her with your life… She has a deadly secret.
In hospital, lives begin and end every day.
The doctors and nurses work round the clock to keep their patients breathing, yet death is part of their routine.
When the police arrive in the brightly lit corridors, asking for pretty, young, Nurse Shaw, staff and patients start talking.
The say Sarah Shaw's husband has been murdered. They'd only been married for a few short months.
The police want to know where Sarah was that night. And why the medicine went missing from the hospital a few days before.
As William Shaw's complicated past unravels it's clear that Sarah has secrets of her own. But as she delivers pills in paper cups with a stiff smile and shaking hands, her patients want to know, is she a killer, or is her life in danger too?
An addictive psychological thriller that will have you glued to the pages until the final shocking twist. Perfect for fans of K.L. Slater, Shari Lapena and Clare Mackintosh.
Author Bio:
Liz Lawler grew up sharing pants, socks, occasionally a toothbrush, sleeping four to a bed. Born in Chatham and partly raised in Dublin, she is one of fourteen children. She spent over twenty years as a nurse and has since fitted in working as a flight attendant, a general manager of a five star hotel, and is now working with trains. She became an author in 2017 when her debut novel Don't Wake Up was published by Twenty7.
Buy Link:
Audio Links:
Listen to a sample here:
You can sign up for all the best Bookouture deals you'll love at: http://ow.ly/Fkiz30lnzdo