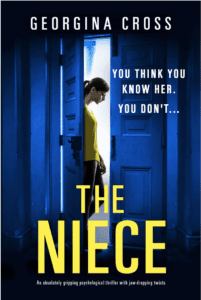 Tara is shocked and griefstricken when her estranged sister dies in a house fire. Her niece Hannah comes to live with her but there is a tension between them as the past haunts them. But sinister phone calls and notes lead Tara to realise she is in danger and could face the same fate as her sister…
The Niece is a psychological thriller set in America.
The book begins with Beth's death which is quite tough to read. We then see the after effects as Tara is informed of the tragedy. She welcomes Hannah but it brings to the fore all of the emotions at being separated from her family for so long. Hannah is obviously devastated by Beth's death but has been raised with a negative opinion on her aunt.
Tara is afraid that the fire was not an accident but rather an act of revenge. This fear is reinforced when silent phone calls and sinister notes are received. Tension is established and well maintained so danger feels imminent. The fire motif used by the author creates a sense of dread as it plays to the readers' own fears.
There are plenty of clues about the event that divided the sisters, then halfway through the book we are transported back 13 years to Hannah's 3rd birthday party. I won't give any spoilers but there was a serious incident and this had my imagination in overdrive as I tried to guess who would be seeking revenge.
The Niece is a gripping psychological thriller with a strong emotional core.
I have previously reviewed The Stepdaughter by Georgina Cross.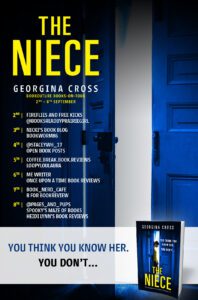 Title:  The Niece
Publication Day: Sept 2nd 2022
Author:   Georgina Cross   
Buy  Link:         
Description:
I love my family. But can I trust them?
Walking down an airport corridor 
I see her

. My mother's sister. There is no mistaking we're related; we have the same long, black hair and brown eyes. 

But my aunt is the one person in the world my mother told me never to trust.
Nothing feels real right now. My beloved mother was my whole world—she taught me everything and she said she would always be there for me. My last memory is of her screaming at me to get out. Then the flames took her, and she was gone.
Now I have to live with my aunt and I hope she's changed after all these years. But when I secretly watch her speaking to her friends, she makes it sound like I'm a stranger in her home.
She leaves her bedroom door open and I hear her on the phone to the police late at night. I start to wonder if she had something to do with the terrible fire that ripped my life apart. And my blood turns to ice when the detective asks, 
what are you hiding?
Is my aunt trying to protect me, or is it time to teach her a lesson?
An utterly addictive psychological thriller about a family with a dark secret at its heart that will make you question everyone you trust. Perfect for fans of 
The Wife Between Us
, 
The Woman in the Window
 and 
Gone Girl
.
  
Author Bio:
Georgina Cross is the author of works of domestic suspense, psychological suspense, and thriller.
Georgina has been writing since she was a child. Notebooks & printed pages filled with stories: adventures growing up in New Orleans and tales from Malaysia & England where her family lives. After graduating from Louisiana State University, she enjoyed a career in marketing & communications and founded Susie's Wish non-profit which sends patients with life threatening illnesses to the beach. She spends time with her husband and their combined family of four sons watching scary movies and basketball tournaments and is thrilled to be a full-time author.
Author Social Media Links: