The house next door is burning down and Vanessa notices that her stepdaughter Mia is missing. Has she run away, been kidnapped or is she in the burning house…?
We begin with the disappearance of Mia and the immediate aftermath of the fire. Then we are taken back in time to the start of Vanessa's relationship to Tripp and see how their marriage developed. Finally we see what really happened on that day…
The plot is delivered through multiple narrative voices, mainly Vanessa, her neighbour Julia and Julia's mother Charlotte who has dementia, but also the lead detective and Mia in the final quarter of the book.
As we explored the background relationships, I felt a little angry at Tripp and Mia for taking advantage of Vanessa but understand the complexities of stepfamilies. Equally, I was frustrated with Vanessa for giving up everything for her stepdaughter, yet her compassion for trying to improve the life of a motherless girl is commendable.
The mix of family drama and psychological thriller kept my interest throughout the whole book. Love, grief and jealousy are key themes and all very human so we as readers can identify easily with the main characters.
I liked the way that all the strands were brought together and the disjointed timeline and narrative structure united. There are a limited number of characters in the book so a reduced number of suspects but I felt that the big reveal still had an element of surprise and kept me guessing.
The Stepdaughter is a debut novel from author Gergina Cross which is surprising as it has a confidence that I would associate with more experienced authors. I look forward to more books from this author soon 🙂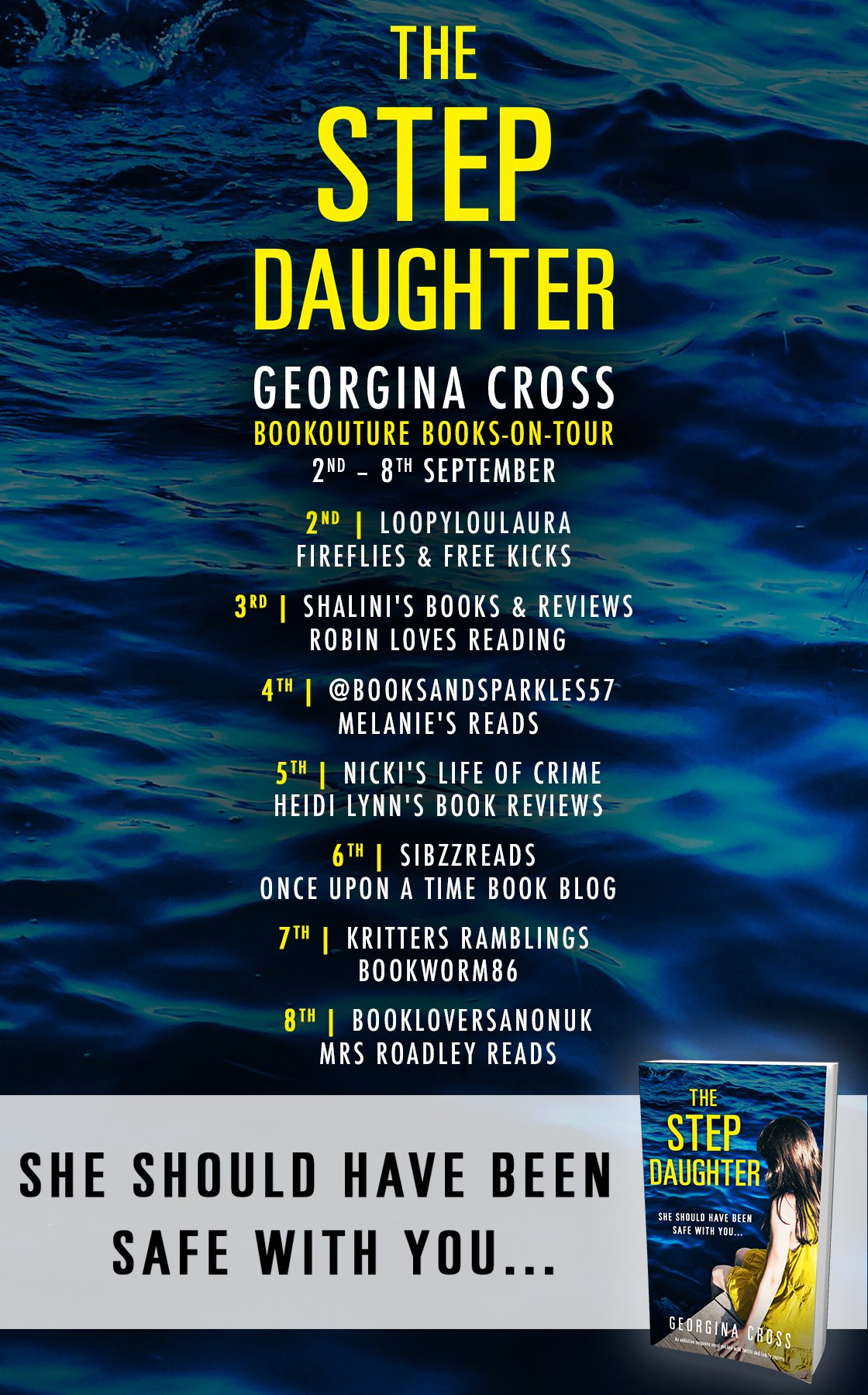 Title:  The Stepdaughter
Publication Day: Sept 2nd 2020
Author:   Georgina Cross   
Buy  Link:         
Description:
It's a normal afternoon when I walk out the patio doors of our kitchen to check on Mia, my stepdaughter, who is swimming in our backyard pool. But she's gone. My heart stops when I see the back gate is open, her pink, fluffy towel lying folded on a chair. I was just feet away. Why didn't I hear her scream? Who took our little girl?
My husband can't understand how I could have let his daughter disappear. And when the police come asking questions, I wish I could wind back time to that normal afternoon when I was cooking lasagna for my family, Mia's favorite. I can tell the officers don't believe me: they've cast me as the evil stepmother.
I just wish I could understand the messages I've found from my husband on Mia's phone: I'm so sorry, I still love you. And why his wedding ring is found at the bottom of the pool after Mia disappeared. He never told me it was missing. What else is he hiding?
But the detective keeps asking me where I was during those ten minutes when Mia vanished. And I can't tell her my secret. From the way she's looking at me, I know she thinks I did something to my stepdaughter. Mia and I haven't always been that close and sometimes she drives me nuts, just like any normal teenager, but I would never hurt her.
I just need you to believe me.
A twisty novel packed with unputdownable suspense about the power and damage of secrets we hide. Perfect for anyone who was totally hooked by The Mother-in-Law, Kerry Fisher and Big Little Lies.

Author Bio:
Georgina Cross is the author of The Stepdaughter (publishing September 2020) and Book 2 (title to be released January 2021) and Nanny Needed (to be published 2021) which are works of domestic suspense, psychological suspense, and thriller.
She is represented by Rachel Beck with Liza Dawson Associates with her suspense fiction appealing to readers of The Good Girl by Mary Kubica, The Marriage Lie by Kimberly Belle, The Mother-in-Law by Sally Hepworth, and Big Little Lies by Liane Moriarty.
Georgina has been writing since she was a child. Notebooks & floppy discs filled with stories: adventures growing up in New Orleans and tales from Malaysia & England where her family lives. After graduating from Louisiana State University, she pursued a career in marketing & communications and founded Susie's Wish non-profit which sends patients with life threatening illnesses to the beach. She spends time with her husband and their combined family of four sons watching plenty of scary movies and is thrilled to be a full-time author.
Author Social Media Links:
Author website: www.Georgina-Cross-Author.com
Twitter: @GCrossAuthor
Facebook: GeorginaCrossAuthor
Instagram: GeorginaCrossAuthor