Alice grows up in colonial Indian, more attached to her ayah than to her parents. Her best friend is her ayah's son Raju and she speaks Hindi more naturally than English. But friendship turns to love with devastating consequences for both Alice and Raju…
Janaki is raised in an orphanage, finding a temporary family before tragedy strikes. As a grown woman, she hardens her heart to prevent further sorrow but one man convinces her to give love a chance…
The connection between the two timelines in The Orphan's Gift is a unity of grief with hope. Both women are victims of their gender and their birth.
It took me a little while to get into this book as I acclimatised to the sensuous descriptions that author Renita D'Silva uses to evoke life in India. Once I was hooked by the plot and characters, the descriptions brought the book to life.
Alice is selfish and oblivious to the social class and racial divisions in India at the beginning of the century. Her focus on her own emotions and ignorance of the impact of her actions makes her a complex character and difficult to like. Yet the desire to find love and be accepted as you are is a basic human instinct and I find that I cannot blame her for her misplaced devotion, and by the end of the book I feel that she redeemed herself.
Janaki contrasts wonderfully with Alice. She is kind and has been moulded by the absence of a conventional family. The heartache she suffers cause a much more emotional grip on the reader as we feel she deserves to find love at last. At the end of the book, author Renita D'Silva comments that Janaki has always had love despite not knowing her parents and quotes Tennyson at the beginning 'It's better to have loved and lost than never to have loved at all' but this book shows it is also better to have BEEN loved and lost it than never to have BEEN loved at all as is Alice's situation.
We meet famous people from India's past that challenge the status quo and our own selfishness: Gandhi and Mother Teresa. Renita D'Silva is not afraid to show the drama, danger and racism of India's fight for independence and self rule. I found the conflict over India to be a metaphor for the fight over women's bodies.
Overall, The Orphan's Gift was a beautifully written book which will surely create an emotional response in even the most hard hearted of readers!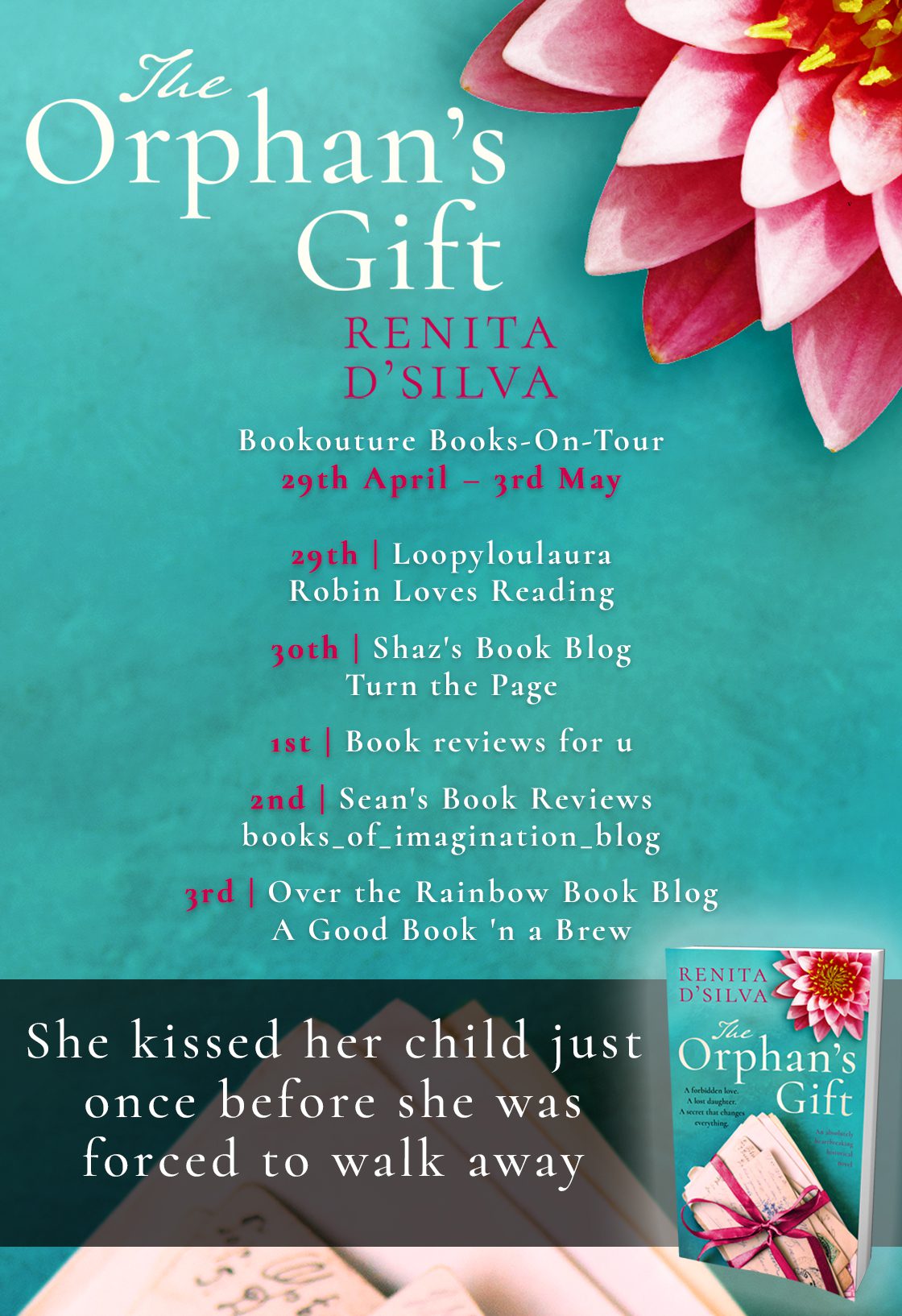 Media Pack Info Sheet
Author:     Renita D'Silva

Book:                   The Orphan's Gift  
Publication Day:  April 29th 2020
Buy LINKS
Description:
She allows herself to kiss her perfect child just once. She wraps the baby in her last gift: a hand-knitted cardigan, embroidered with a water lily pattern. 'You're better off without me,' she whispers and although every step breaks her heart, she walks away.
1910, India. Young and curious Alice, with her spun-gold hair, grows up in her family's sprawling compound with parents as remote as England, the cold country she has never seen. It is Raju, son of a servant, with whom she shares her secrets. Together, their love grows like roses – but leaves deep thorns. Because when they get too close, Alice's father drags them apart, sending Raju far away and banishing Alice to England…
1944. Intelligent and kind Janaki is raised in an orphanage in India. The nuns love to tell the story: Janaki's arrival stopped the independence riots outside the gates, as the men on both sides gazed at the starry-eyed little girl left in a beautiful hand-knitted cardigan. Janaki longs for her real mother, the woman who was forced to abandon her, wrapped in a precious gift…
Now old enough to be a grandmother and living alone in India, Alice watches children play under the tamarind trees, haunted by the terrible mistake she made fifty years ago. It's just an ordinary afternoon, until a young girl with familiar eyes appears with a photograph and Alice must make a choice. Will she spend the rest of her life consumed by dreams of the past, or can she admit her mistakes and choose love and light at last?
A stunning and heartbreaking novel about how a forbidden love can echo through the generations. Readers who love Lucinda Riley, Kathryn Hughes and The Storyteller's Secret will be captivated.

 Author Bio:
Renita D'Silva loves stories, both reading and creating them. Her short stories have been published in 'The View from Here', 'Bartleby Snopes', 'this zine', 'Platinum Page', 'Paragraph Planet' among others and have been nominated for the 'Pushcart' prize and the 'Best of the Net' anthology. She is the author of 'Monsoon Memories','The Forgotten Daughter', 'The Stolen Girl', 'A Sister's Promise', 'A Mother's Secret', 'A Daughter's Courage', 'Beneath An Indian Sky', 'The Girl In The Painting', 'The Orphan's Gift'.
Author Social Media Links
TWITTER: @RenitaDSilva