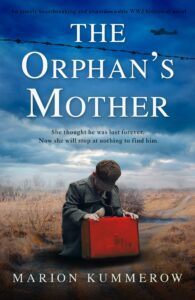 A German mother's terrible choice: to flee the approaching Soviets with her son who is ill or leave him to get the medical help he needs to live? Emma is a German woman living in Poland at the end of WW2. She abandons her home to save her children but Jacob falls ill on the journey and she fears he could die. They are separated when the city is evacuated but Emma never gives up hope they will be reunited…
The Orphan's Mother is a hugely emotional historical novel set in Germany and Poland in the 1940s and 50s. I felt that the situation was quite unique and not one I had read about in other books set during this period.
There is antagonism and ill feeling between the Germans and Poles which impacts on the characters of this novel. Jacob is saved from certain death in the hospital by nurse Irena. She is unable to have children herself due to an episode of Nazi brutality but taking on a German child creates a difficult situation for her and her husband. The couple grow to love Jacob but the truth of his adoption leaves a feeling of dread. Meanwhile, Emma never gives up hope of finding her son. She relentlessly searches for him which fractures her other relationships.
The premise of this book is so heart wrenching. There are some mentions of violence as well as an implied rape but the main focus in on the emotional side of the plot. The women are vividly portrayed and their terrible situations brought to life. It was very easy to identify with the emotions of both Emma and Irena especially as they both have the best interests of Jacob in mind at all times. I really didn't know how I wanted the situation to resolve itself and was completely gripped as events unfolded.
The Orphan's Mother is a thought provoking, heartbreaking book with a fascinating dilemma at its centre.
I have previously reviewed other books by Marion Kummerow including Not Without My Sister.

Book Description:
1945, the German-Polish border: With Nazis on one side and Soviet forces approaching on the other, a mother and her little boy are torn apart, and so begins an unforgettable tale of courage, heartbreak and motherhood in wartime.
"If you ever get lost, Jacob, you need to stay where you are and wait, because I'll come looking for you. And I'll always find you."
In the icy grip of winter, Emma is trying to escape Poland, with her two young children and little more than the clothes on their backs. With the Russian Red Army advancing, she knows their safety relies on them crossing the border. She swears to herself that she'll do whatever it takes to keep their family together.
But before they can reach the border, her little boy Jacob falls ill, his once-sparkling blue eyes getting dimmer with each moment that passes. And Emma knows she has to get him to a hospital, where she hands him to a kind nurse.
She feels sure they will be reunited the next day. But then the bombing starts. And when she reaches the hospital again, she finds it deserted, her darling son gone.
Though her heart tells her she has to stay and find him, she faces an impossible choice. She would risk her own life for Jacob in a heartbeat, but as her daughter Sophie's cold, little hand slips into her own, Emma is forced to make a heartbreaking decision. Unable to find any trace of her beloved son, she knows she must at least get her daughter to safety.
But she can never forget the promise she made to her little boy. That if they were ever separated, she'd come looking for him. That she'd always find him.
Whatever the danger, whatever the risk. She knows what she has to do. Because there is nothing stronger than a mother's love…
An utterly unforgettable and devastating story, perfect for fans of The Tattooist of Auschwitz, Stolen from her Mother and Sold on a Monday.

Author Bio:
Marion Kummerow was born and raised in Germany, before she set out to "discover the world" and lived in various countries. In 1999 she returned to Germany and settled down in Munich where she's now living with her family.
Inspired by the true story about her grandparents, who belonged to the German resistance and fought against the Nazi regime, she started writing historical fiction, set during World War II. Her books are filled with raw emotions, fierce loyalty and resilience. She loves to put her characters through the mangle, making them reach deep within to find the strength to face moral dilemmas, take difficult decisions or fight for what is right. And she never forgets to include humor and undying love in her books, because ultimately love is what makes the world go round.
Buy Link:
You can sign up for all the best Bookouture deals you'll love at: http://ow.ly/Fkiz30lnzdo