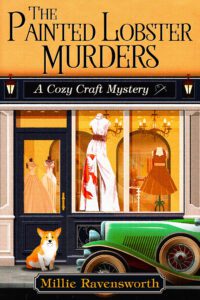 Penny and Izzy have a new project: an outfit based on Schiaperelli and Dali's 1937 lobster dress. The commission comes from Fliss Starling who is hosting a house party in advance of a classic car show. But as the crafting duo get creative, they also have a murder to solve…
The Painted Lobster Murders is the second book in the Cosy Crafts series which began with The Wonderland Murders.
I loved the escapades of Penny and Izzy as they race to complete their latest project. The sewing detail was really interesting to me alongside the historical information about the original dress. They are hampered by the arrival of a corgi and allegations about a crime spree in masks from their shop.
The pair also have to contend with a rival business with a connection to the murdered man. In personal matters, Penny has two potential dates and I enjoyed seeing how she interacts with these two male characters.
There is plenty of fun and once again the murder element is secondary to the other aspects of the plot. The number of suspects is limited by the house party but there are suspicions about the past which offer a clue or a red herring…?
The Painted Lobster Murders is another enjoyable instalment in this series and I'll be reviewing the next book soon!

The Painted Lobster Murders
A quirky and funny series for fans of a good mystery and compelling characters. Can you solve the crime before our dressmaking duo?
Penny Slipper runs a sewing shop in the beautiful market town of Framlingham and she's got her wild and creative cousin, Izzy, to help with the latest dressmaking project.
A classic car weekend is coming to town and stylish Fliss Starling wants an outfit that will match her husband's elegant vintage car.
When one of Fliss's house guests is murdered by a masked intruder, Penny and Izzy have a deadly mystery to solve (as well as a dress to make!). With the aid of a cheeky little corgi dog and handyman Aubrey, they begin to search out the clues to this motor-related murder.
But fingers are soon pointing at Penny and Izzy when the intruder's mask appears to have come from their own shop! And rival shop owner, Carmella, would be delighted to see them take the blame.
Can Penny and Izzy stitch the pieces of this puzzle together and find the guilty culprit?
If you enjoy fast-paced mysteries, charming country towns and characters who you want to spend hours with then you're going to love the Cozy Craft Mystery series.
Start your next murder mystery adventure today!
Purchase Links

Author Bio – Millie Ravensworth writes the Cozy Craft Mystery series of books. Her love of murder mysteries and passion for dressmaking made her want to write books full of quirky characters and unbelievable murders. Millie lives in central England where children and pets are something of a distraction from the serious business of writing, although dog walking is always a good time to plot the next book.
Social Media Links –