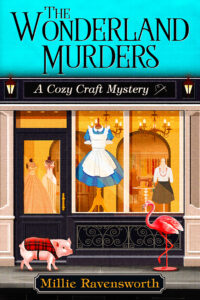 Penny's nan asks her to help out in the family craft store as she recovers in hospital. Her cousin Izzy is impulsive with brilliant creative skills but litle business sense. Together the cousins try to breathe some new life into the shop. But their efforts are hampered by a murder investigation…
The Wonderland Murders is the first book is a cosy murder mystery series and I will be reviewing the later books shortly.
Penny has lost her job and is looking for a new challenge. Her nan asks her to help out in her craft shop alongside her slightly eccentric cousin Izzy. Together they need to save their nan's business and I loved watching the two women working together. There is a gentle humour and warmth to the writing which gives a lovely feel to the book.
The murder is somewhat secondary to the wonderful blossoming relationship between Penny and Izzy as they work together, bouncing ideas off the other to try to make a success of their crafting business. As befits the genre, there is no graphic detail (except for the demise of a poor watermelon!) There are not a great deal of suspects but there were still red herrings to keep me guessing until the final reveal!
The Wonderland Murders is an enjoyable cosy mystery and I am looking forward to the future books in the series.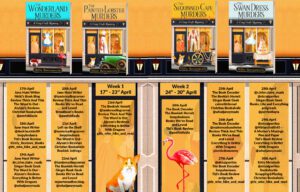 The Wonderland Murders
A quirky and funny series for fans of a good mystery and compelling characters. Can you solve the crime before our dressmaking duo?
After losing her job at an exclusive London hotel, Penny Slipper is only too happy to help when her grandma asks her to take charge at the Cozy Craft sewing shop in charming rural Suffolk.
With cousin Izzy on hand as the expert dressmaker and Penny's head for business, what can possibly go wrong?
But Penny's in town for less than a day when the local librarian is poisoned and Penny fears she might even be accidentally responsible. Penny and Izzy are forced to turn detectives to uncover the true cause of death, while finishing a costume commission for their first customer.
Matters take a further deadly turn when a second body is discovered.
Can Penny and Izzy unpick the mysteries of the past and sew the pieces of this puzzle together before it's too late?
If you enjoy fast-paced mysteries, charming country towns and characters who you want to spend hours with then you're going to love the Cozy Craft Mystery series.
Start your next murder mystery adventure today!
Purchase Links

Author Bio – Millie Ravensworth writes the Cozy Craft Mystery series of books. Her love of murder mysteries and passion for dressmaking made her want to write books full of quirky characters and unbelievable murders. Millie lives in central England where children and pets are something of a distraction from the serious business of writing, although dog walking is always a good time to plot the next book.
Social Media Links –
Giveaway Prize – The Wonderland Murders, a cross stitch book, a floral notepad, a note writing set and a grass bunny.