TRIGGER WARNING: addiction
Lizzie's life derailed when her father died. She self medicated with drink and drugs but has now completed rehab and is ready to reunite with her family. Her mum picks her up from the clinic after marrying again and they head to his home to meet his daughter and celebrate the union of the two families. But someone else turns up at the party: Lizzie's dad is not dead after all and wants his family back…
The Party is a psychological thriller and murder mystery set in Ireland.
Lizzie and her family have been through a tough few years. They were in a serious financial crisis when Declan died at sea and his body was never recovered. Lizzie turned to alcohol and drugs to help her cope with her loss but this led to a car crash in which she injured her little brother. She confronted her addiction and got through rehab so is hoping that the future looks more positive. Her mother Claire has moved on with her life and married George. Then the bombshell hits the family as Declan returns and admits he faked his own death.
The book is written in the third person so we can see mulitple perspectives but not the depth of emotion in their innermost thoughts. This eases the tension as there are some really strong emotions in this book. Lizzie is furious that her life was ruined by her grief but now realise it was the selfishness of her father. She is also burdened with guilt due to her past behaviour and wants to make amends.
Love is an important theme in the book whether for yourself, family or partner, and the same is true of forgiveness and trust. Lizzie has to accept her past and wants to make amends but the arrival of her father affects her choices. I enjoyed the family dynamics and intriguing mystery. The characters are flawed which maintains the anticipation as the plot progresses and the twists unfold.
The Party is an enjoyable mystery and thriller.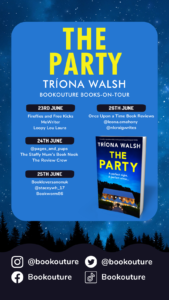 The Party: A totally unputdownable, twist-packed psychological thriller by Tríona Walsh
It was only supposed to be a small wedding. Intimate and perfect. But my blood turns to ice when I see someone I know wasn't invited. My first husband – who I thought was dead.

My world shattered when Declan disappeared five years ago. My grown-up children fell apart without their father, and it was up to me to pick up the pieces of our broken lives.

I never thought I'd get married again but then I met George. Some people might think we're moving too fast. But as I look round on our wedding day at our little family, the sounds of laughter and clinking glasses ringing out, I know that I've made the right decision.

Until Declan steps out the shadows. He says he still loves me, and now he's back for good. But where has he been all this time?

My legs shake so much that I can barely stand… Even though he lied to me so many times, as I stare into Declan's sparkling blue eyes I realise that my new husband can't compare to the love we once shared. But at least I can trust George. Can't I?

Before I even have a chance to decide, Declan is found murdered. A chill races down my spine as I realise – his killer must be one of our wedding party. Did Declan bring back secrets that should have stayed buried?

Now, we're trapped in this house in the middle of nowhere and my heart pounds as I realise there's no escape. Why is Declan dead? And can I get me and my children out of here before one of us is next…?

A totally gripping psychological thriller, packed with secrets and gasp-inducing twists. Fans of Lucy Foley,K.L. Slater and Shalini Boland won't be able to put this down.



Author bio
Tríona Walsh loves reading and writing crime novels but is fairly law abiding in real life. A twice winner of the Irish Writers Centre Novel Fair competition she lives in Dublin with her four kids, three cats and one husband.
Author social media
Website
Instagram URL
Twitter URL
Newsletter