Twenty five years ago three girls went into the forest for a midnight party. Only two returned. In the present day, Mel moves back to Laurel Street with her husband and new baby but is confronted by the past. What really happened to Erin that night and will she ever be found?
The Party on Laurel Street is a psychological thriller set in the UK.
Mel's life was turned upside down when one of her best friends went missing twenty five years ago. Now she is back living in the same street and her missing friend's mum decides to host a party. Her remaining childhood friend disappears and the main suspect from before is hanging around.
The prologue which depicts the night 25 year ago is written in the first person as someone watching the girls. This felt very sinister. The book is then written in the third person to show Mel's increasing unease at her return to Laurel Street.
The style of writing is easy to read and Mel's mixed emotions are understandable. The scenes in the woods add to the sense of foreboding. There is huge tension and suspense as we wonder what happened in the past, what is happening now, if the same person could be responsible and whether Mel is in danger.
The Party on Laurel Street is full of mystery and drama whilst also dealing with big emotions.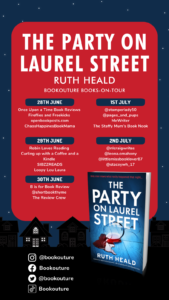 Media Pack
The Party on Laurel Street: A completely addictive psychological thriller with jaw-dropping twists
Only she knows what really happened that night…
It was meant to be a time of celebration, of neighbours chatting over sparkling glasses of wine, enjoying the decadent surroundings of the huge mansion house which overlooked all the houses on Laurel Street. But then my troubled friend Gabbie has a heated argument with her husband. She leaves the party and disappears without a trace.
Gabbie's neighbours rally round, painfully aware that Laurel Street has already had its share of tragedy. Years ago, when we were children, my best friend Erin vanished, never to be seen again, after having a secret party in the woods with me and Gabbie as our families celebrated the new year.
I want Gabbie to be found safe. I need her to come home. Because if she doesn't, I know that all eyes will be on me as they were years ago.
But then I discover that my husband Luke was the last person to see Gabbie alive and I'm reminded of all the times I saw them getting close. As much as I pushed it to the back of my mind, I have to ask, can I really trust them? And worse, is someone about to make me pay for the secret I've been keeping for so long?
A totally unputdownable and gripping psychological thriller with a shocking twist for fans of Lisa Jewell, T.M. Logan and Louise Candlish.
Buy links:

Author Bio:
Ruth Heald is the bestselling author of psychological thrillers THE WEDDING, I KNOW YOUR SECRET, THE MOTHER'S MISTAKE and THE WOMAN UPSTAIRS, and the relationship drama 27: SIX FRIENDS, ONE YEAR.
Ruth studied Economics at Oxford University and then worked in an eclectic mix of sectors from nuclear decommissioning to management consulting. She worked at the BBC for nine years before leaving to write full time.
Ruth is fascinated by psychology and finding out what drives people to violence, destruction and revenge. She's married with two children and her novels explore our greatest fears in otherwise ordinary, domestic lives.
You can connect with Ruth on Twitter @RJ_Heald, or Facebook /RJHealdauthor
Author social media:
 Twitter: @RJ_Heald
Instagram: @ruthheald