Jess Harper and her mother have an incredibly close relationship. Too close, too insular, too unhealthy. Jess has finally found romance and freedom in the form of plumber Adam but her mother doesn't approve. Then Adam goes missing, presumed dead…
The Perfect Daughter is an intense psychological thriller and is the first book that I have read by this author. It won't be the last!
Ooh this book had my hackles up from the first pages! Poor Jess is belittled and controlled by her mother but is helpless to stand up for herself. She has been continually undermined and feels unlovable and unworthy. However, she sees her mother's words and actions as evidence of love especially as her mum has protected her on numerous occasions.
The character of Jess' mother Abigail is so well developed and is almost villainous from the start. Her insidiously controlling behaviour is deeply disturbing and I was desperate to yell at Jess to escape. Jess is likable but has no self confidence or friends, having internalised her mother's negativity.
The book is written using alternating chapters of the past and present until the final quarter which stays in the present day. Jess is devastated when Adam's van is discovered at the bottom of a cliff but there is no sign of a body yet. It soon becomes clear that their relationship had struggled and she finds herself a suspect as the police investigate. There are plenty of twists and, although I did guess most of them, I could not predict the ending!
The Perfect Daughter was a real page turner as truth and lies spiral together for a fascinating plot.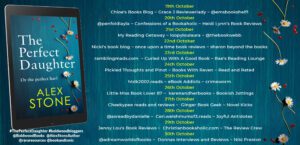 The Perfect Daughter book blurb:
The perfect daughter…
Jess Harper has spent her whole life trying to make her mum, Abigail happy and proud. And everything Jess does, from the clothes she wears, the job she has, the men she dates, are all approved by Abigail first.
The perfect boyfriend…
So when Jess announces that she has a new man in her life – plumber Adam – Abigail is less than impressed. 'A plumber? Really, Jessica….' Adam encourages Jess to break free from her mum's manipulation, can't she see what's happening?
The perfect mother….
But Abigail is only doing these things to keep Jess safe, to protect her from getting hurt again…isn't she?
Or the perfect liar?
Jess, caught in the middle, doesn't know who to believe or trust. And then Adam vanishes without trace.
Now Jess is the police's prime suspect and they want to know if Jess really is as perfect as she seems….
A gripping new psychological thriller for fans of Sue Watson, Shalini Boland and S.E.Lynes

Author Bio –
Alex Stone, originally an accountant from the West Midlands, is now a psychological suspense writer based in Dorset. This beautiful and dramatic coastline is the inspiration and setting for her novels. She was awarded the Katie Fforde Bursary in 2019 and her debut thriller The Perfect Daughter will be published by  Boldwood in October 2021.
Social Media Links – .