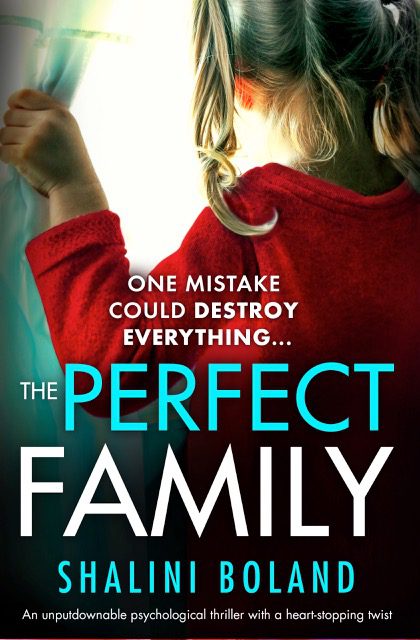 This book had me gripped from the very first chapter. A child going missing is a nightmare every parent dreads. It happens to Gemma at the start of The Perfect Family but thankfully quickly has a happy outcome.
Then other things start happening which put Gemma and her family at odds with their friends and family. Under pressure to act quickly, the family hire a nanny to reduce stress but more is caused…
This book was just brilliant. Gemma is a working mum who often feels pulled in all directions and I completely identify with that! The whole book just seems like it could be real, tapping into our fears about our own families.
The narrative is split between Gemma and Sadie the nanny. We can read how much Gemma is being affected by the things that are happening. We know that Sadie has an ulterior motive and at the beginning I was sympathetic towards her because I believed she was escaping an abusive relationship.
It is so difficult to know what to write because I really don't want to have too many spoilers! Knowing Sadie's inner thoughts leaves a feeling of anticipation and dread and the reader is invited to imagine how Gemma will react.
I got quite annoyed with Gemma's husband Robert and this is a sign of how involved I became with the characters. Throughout the book, he insinuates that Gemma should be the one to work less and have more responsibility for the housework and childcare. His mother asks Gemma if he is feeling emasculated through his involvement in the household routine. Why??? He is being a good dad and should be proud of his wife and not concerned that she earns more than him!
The final chapters were excellent. I had my own theories about what was going on and I was partly right but the way it was written and concluded was excellent. I can't wait to read more of Shalini's books!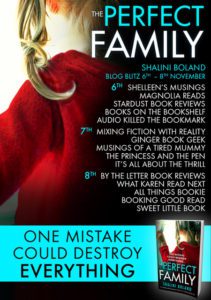 The Perfect Family by Shalini Boland
'Mummy, she's gone…'
Gemma Ballantine is getting ready for work one morning when her eldest child comes running down the stairs, saying the words every mother dreads.
The front door is open. And her six-year-old daughter has disappeared. Frantic with fear, Gemma starts a nail-biting search for her little girl.
After what feels like forever, her mother-in-law Diane finds Katie wandering lost a few streets away. Relieved to have her youngest child back in her arms, breathing in the sweet scent of her hair, Gemma thinks the nightmare is over.
But then her perfect family starts to fall apart.
And she realises it's only just beginning…
From the top ten bestselling author of The Secret Mother and The Child Next Door, this completely addictive psychological thriller of secrets, lies and betrayal will make you gasp out loud at the heart-stopping final twist. If you loved Gone Girl, The Girl on the Train and The Sister this book is for you.

About the author:
Shalini Boland is a USA Today bestselling author of psychological thrillers 'THE GIRL FROM THE SEA' (No 1, US Audible charts), 'THE BEST FRIEND' (No 2, US Audible charts), 'THE MILLIONAIRE'S WIFE' (No 9, UK Kindle charts), 'THE SECRET MOTHER' (No 2, US Kindle charts), THE CHILD NEXT DOOR (No 11, UK Kindle charts).

Shalini lives in Dorset, England with her husband, two children and their cheeky terrier cross. Before kids, she was signed to Universal Music Publishing as a singer/songwriter, but now she spends her days writing psychological thrillers (in between school runs and hanging out endless baskets of laundry).

Be the first to hear about her new releases here:

 

http://eepurl.com/b4vb45

She is also the author of two bestselling Young Adult series as well as an atmospheric WWII novel with a time-travel twist.

http://www.facebook.com/ShaliniBolandAuthor
http://www.shaliniboland.co.uk
https://twitter.com/ShaliniBoland