Julian and his wife Olivia are on holiday to celebrate their birthdays when they bump into Gabriel. It soon becomes clear that Julian and Gabriel have met previously and Julian is definitely not keen on revisiting the past…
The Perfect Holiday is a psychological thriller set in Spain and the UK.
The book is written in the past and present, from Julian's perspective as well as his memoir. He was a carer for his first wife who died after a break in. The published memoir contrasts with his other viewpoint which shows the things he didn't want to print.
I felt deep sorrow for Julian in the past as he struggled to care for his first wife and put his whole life on hold. He meets Gabriel and I didn't trust him at all but Julian is desperate for some human contact. This then leads to a more sinister series of events which leaves Julian fearful when they meet up again in the present day.
There are several thought provoking elements to the book as well as moral dilemmas. I have mixed feelings towards Julian as he makes bad choices from a place of great sadness and desperation. Gabriel is someone that I loved to hate!
The Perfect Holiday is entertaining yet often emotional psychological thriller.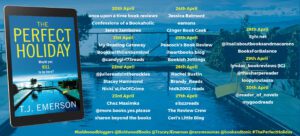 The Perfect Holiday
Would you kill to be here?
Olivia and Julian are enjoying lazy days in their Spanish villa, a well deserved break from their busy lives. Especially for Julian, who after a lifetime as a carer was thrust into the public eye following the tragic murder of his first wife.
The languid heat and peace of the villa is broken only by clifftop walks, sun drenched lunches and cooling swims. Until a chance encounter with Gabriel – an attractive man, many years their junior – changes everything.
Soon their idyllic break turns into a dangerous, high-stakes game of cat-and-mouse. Will any of them get out alive?

Author Bio –
T.J. Emerson's debut psychological thriller was published by Legend Press and received brilliant reviews. Her short stories and features have been widely published in anthologies and magazines, and she works as a literary consultant and writing tutor. Her latest psychological thriller, The Perfect Holiday, will be published by Boldwood Books in April 2022. She lives in Scotland.
Social Media Links –