TRIGGER WARNING: this book contains sustained emotional and physical domestic abuse including rape
Jay adores Sophie. She is certain of this. But on their wedding night, just eight months after meeting, he breaks her wrist and calls her vile names. He blames her drinking for the incident but more abuse and violence follow. Can Sophie escape her 'perfect' husband…?
The Perfect Husband is a psychological thriller about a woman who is terrorised by her husband.
Sophie has met and married Jay on the rebound. Her family try to put her off but she is determined to move on. On the wedding night Jay transforms into someone she doesn't recognise and it soon becomes clear that this isn't a one-off incident. The threats and abuse are relentless as Sophie is gradually isolated from her friends and family, and has no means to escape her violent husband.
This book is impossible to enjoy as such. However, it was utterly absorbing. The book is written from Sophie's first person perspective. I felt that I was right there in the situation alongside Sophie, confused and heartbroken by the terrible change in Jay, scared for her safety and the future.
The personal approach to the very sensitive subject of domestic abuse is very successful in engaging the reader. I was desperate for Sophie to escape but could understand why she didn't. The actions of her mother and sister surprised me as they took things at face value and abandoned her so I didn't find this very credible. There was a big twist at the end which I kind of expected but it was written well.
The Perfect Husband is a dark thriller but not for the faint hearted.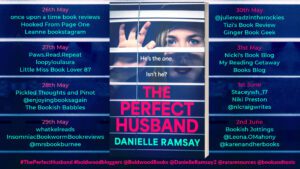 The Perfect Husband
How do you know if you've married the wrong person?
It was a whirlwind romance and we had the perfect relationship.
He was my dream partner, loving, caring, attentive… until the day I married him and things became toxic.
I spent my wedding night in A&E with an 'unexplained' broken wrist – but I knew what happened….
My romantic illusions shattered. My fear of the future heightened.
The man I had fallen in love with wasn't the man I married.
And that was just the start of things to come.
Quickly things escalated. He isolated me from family and friends, and with no one to turn to, he began to control every part of my life.
I tried to escape, but he watched my every move.
Until one day he went too far, and I found my strength to fight back.
I no longer wanted to be a victim.
I wanted to live.
I wanted my life back.
But at what cost?
In sickness and in health and till death us do part…
** Perfect for the fans of Louise Candlish and Adele Parks**

Author Bio –
Danielle Ramsay is a Scot living in a small seaside town in the North-East of England. Always a storyteller, it was only after completing a First Class (Hons) Degree in Media Production that she then went on to follow an academic career in literature. She was shortlisted for the CWA Debut Dagger in 2009 and 2010, and appointed a New Writing North Read Regional author in 2011.
She is the author of five DI Jack Brady crime novels and The Last Cut, a dark thriller with DS Harri (Harriet) Jacobs. Danielle fills her days with horse-riding, running and murder by proxy.  She is also the proud Patron of the charity SomeOne Cares, which counsels survivors of domestic violence, rape and child abuse.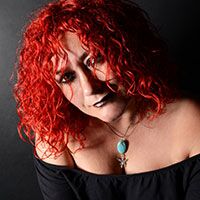 Social Media Links –