A lottery win is most people's dream come true. But for Heather and her family it becomes a nightmare…
TRIGGER WARNING: This book contains references to bulimia
The Perfect Life sees Heather spontaneously buy a lottery ticket having never bought one before, and she wins £29 million! However, the pressure of keeping it a secret is unbearable and her good fortune stirs up deep rooted feelings of guilt. Heather and her family escape to Spain to plan their future but it becomes clear that someone is determined to make Heather suffer: who can she trust?
I thought the narrative style was interesting. Heather is the main character but we see her perspective through a third person viewpoint. Meanwhile, her best friend Natalie is given a first person view. A third perspective is also shown: a relationship at breaking point due to money worries.
The premise of the book, the lottery win, is a fantastic plot device and one that many of us have aspired to. But reality is often different as this book showcases. The many 'what ifs' faced by Heather demonstrates that sudden wealth can be a curse and even dangerous when others are desperate.
The mystery perspective creates a feeling of anticipation as we wait for the reveal. I found myself saddened by Heather's descent into bulimia as she struggles to cope with the pressure of the money. The more objective use of third person narative created a slight distance so that this subplot did not overwhelm the main events.
The Perfect Life is an enjoyable psychological thriller and most of us will identify with conflict faced by the main characters.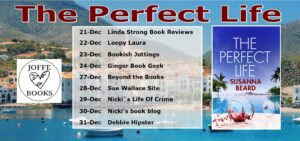 THE PERFECT LIFE
DISCOVER A TOTALLY COMPELLING PSYCHOLOGICAL THRILLER WITH AN ELECTRIFYING FINISH
The woman who has it all
Heather has lucked out. She has a beautiful house, a happy marriage to James Jessop, with two sons, Ben and Harry — and she's just won the lottery. £29 million!
The loyal best friend
Natalie has never quite kept up, but she's finally in a relationship with a new boyfriend, Nick. She's been best friends with Heather since they were bullied at school. But will her friend's new fortune change their relationship?
A dream come true turns into a paranoid nightmare
The Jessops comfortable life dissolves into chaos. Heather starts getting anonymous, hateful messages on her phone. She begs Natalie to escape with her to Spain, along with a few other close friends. But away from the limelight in London, things go from bad to worse. Then the worst happens and Heather realises she can't trust anyone. Not even her best friend.
Nothing will ever be the same again
Charged with menace, this unputdownable, edgy story of jealousy and suspicion by critically acclaimed author Susanna Beard reimagines the depths of the psychological thriller.
Perfect for fans of Gillian Flynn, T.M. Logan, B.A. Paris, Liane Moriarty, Claire Dyer, Sam Carrington, Celeste Ng.
WHAT READERS ARE SAYING ABOUT SUSANNA BEARD:
"This novel bears all the hallmarks of a great thriller. It not only deals with huge issues like greed, guilt, evil and revenge, but with Anna's deeply personal search for justice, reconciliation, forgiveness and trust. Her journey takes her to the very limits of herself but, at its heart, [this] is also a story about love in its best forms and I defy anyone not to get swept up in it." Claire Dyer
"It is taut and tense and builds to an electrifying conclusion." Kirsten Hesketh
"Articulate and gripping — an impressive achievement." Shelley Weiner
"I enjoyed Susanna's emotive and thought-provoking novel — I thought it was an engrossing mystery and loved the Lithuanian setting. She dealt with some dark themes and created great three-dimensional characters, especially Anna, who was complex and engaging. I wanted to go along with her in her journey for finding the truth." Sam Carrington
SUSANNA BEARD
Despite enjoying the writer's life, Susanna has an adventurous streak – she has swum with whale sharks in Australia, trekked in the mountains of Nepal and fallen down a crevasse in the French Alps.
Her favourite quote is from Winnie-the-Pooh: "Stories make your heart grow." Apart from books, her passions include wildlife, dogs and tennis. She aims to keep writing, and never to get old.
BOOKS BY SUSANNA BEARD
COMING SOON!
FOLLOW SUSANNA ON