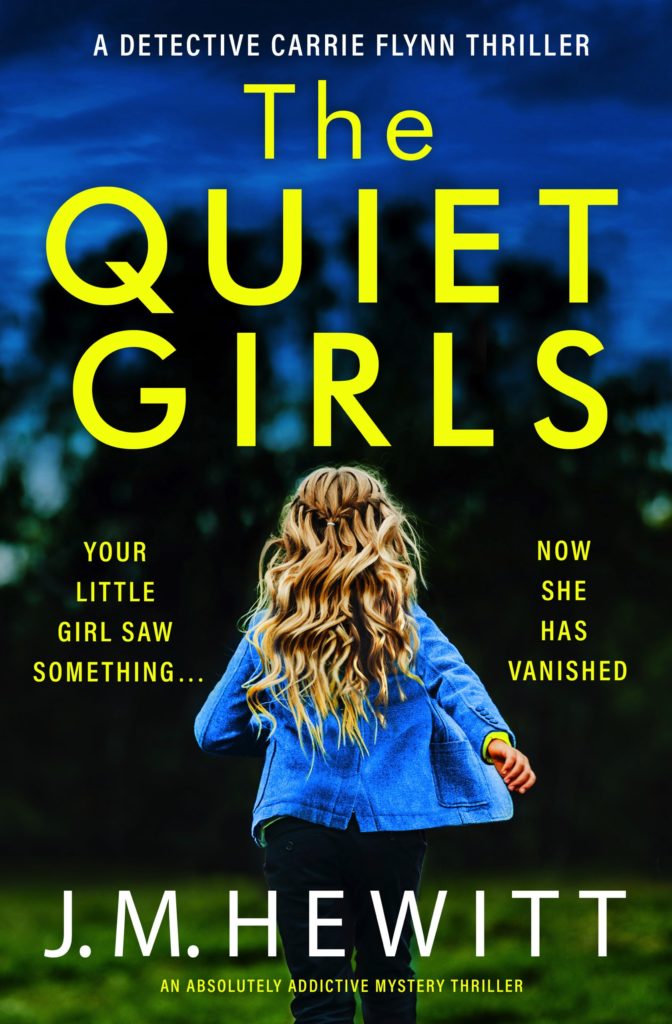 The police station has been getting calls for help from a young woman but she rings off without revealing any further details.
Three girls break into a house that isn't as empty as they hoped. A man in a mask is there…
One of the girls, Melanie Wilson, is taken to a deserted island by her father to escape society's menace but will she be safe there?
Carrie Flynn investigates both cases and discovers they are linked! Meanwhile, she is dealing with her own past and the disappearance of her little sister which led to her mother's mental collapse and her own trauma-induced amnesia.
I was initially quite confused by the focus on Melanie's family and their decision to cut themselves off. Their characters are well developed through the plot and the reason behind the author's focus on the Wilson family becomes clear. I really enjoyed the intricacies of the relationship between Melanie's parents: they are both so human and vulnerable.
We only became aware of Carrie's own past right at the end of the previous book so the flashbacks to her childhood are new and devastating. In the present day, she is beginning to allow herself to bond with her colleagues, in particular Paul. The police procedure elements to the book were realistic and interesting without being overdramatic.
J.M. Hewitt sustained my interest even when I couldn't see where the plot was going. The characters create an emotional pull that makes compelling reading. I look forward to seeing what the author has planned for Carrie next as she moves forward from her tragic past.
Take a look at my review of the first book in the Carrie Flynn series: The Night Caller.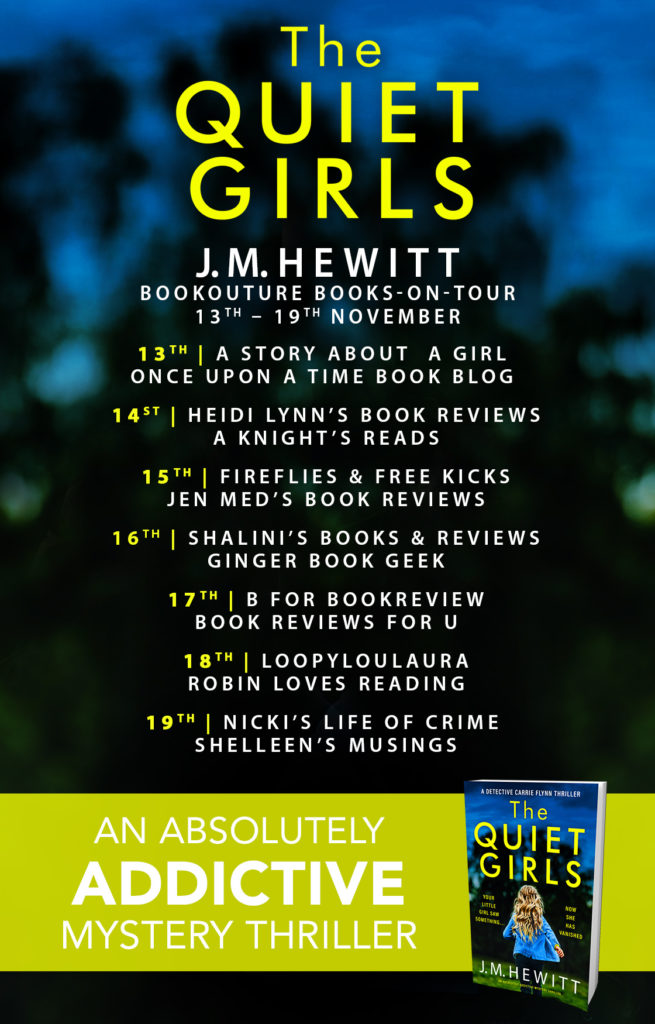 Media Pack Info Sheet:
Title:         The Quiet Girls
Author:     J.M. Hewitt   
Publication Day:  13/11/19
Buy Links :
Description:
'Hattie!' Carrie called, an edge to her voice. 'Hattie, this isn't funny, come out now.' Carrie moved through the woods on shaking legs. She tried calling, shouting, screaming, but everything was quiet. Her little sister was gone.
Detective Carrie Flynn's sister Hattie was kidnapped when they were both little girls. After the police failed to find the culprit, Carrie swore she would become a detective and solve the case herself. But the face of the man who snatched Hattie is a blank in her memory…
Twenty years later, eleven-year-old Melanie Wilson is reported missing, a quiet child who longs to fit in, just like Hattie… Carrie has to fight off memories of her lost sister to concentrate on the case, but she soon finds grainy black-and-white footage of Melanie boarding a boat and vanishing. She discovers Melanie has been taken to Pomona, a deserted island, almost inaccessible from the city. But who took little Melanie, and why?
Then the police receive a desperate cry for help from another young girl: I gave you his name, told you where to find him, but you did nothing. My blood is on your hands. Carrie traces the call to the same docks where Melanie was last seen. Now she has a second missing child to save.
But the sound of the broken voice has unlocked something in Carrie. The blurred face of her sister's kidnapper is starting to become clearer…
Carrie is sure the lost girls are in terrible danger – and that there's a link between her sister's disappearance and this case. To find Melanie, Carrie must unleash the memories she's buried for years. And if she uses her own demons to bring Melanie home, can she finally find out what happened to her sister?
This absolutely unputdownable thriller will keep you up all night until you reach the final heart-stopping page! Perfect for fans of Angela Marsons, Val McDermid and Lisa Regan.

Author Bio:
J.M. Hewitt writes crime fiction and is the author of three previous crime fiction novels and has been published in two short story publications. Her work usually incorporates twentieth and twenty-first century events and far flung locations, and her novels explore the darker side of human behaviour.
In contrast to the sometimes dark content of her books, she lives in a seaside town in Suffolk with her dog, Marley.
When she was ten years old she'd read all the books she owned, all those on her mother's bookcase and everything the library had to offer. She decided the only course of action to take was to write her own stories. Thirty years later, she is still writing them.
Author Social Media Links: