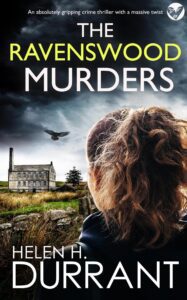 A serial killer is on the loose, taking teen girls and making them sew their own shrouds before killing them. He mutilates the body to avoid identification of his victims and the police are stumped. DCI Alice Rossi is called upon to breathe new life into the investigation but can she work quick enough to save the next victim?
The Ravenswood Murders is the second book in the detective and serial killer series featuring DCI Alice Rossi. I have previously read and reviewed the first book The Ash Lake Murders.
Alice is called in to support a team trying to catch a killer. She faces a little opposition but the team are desperate to solve the case. Four teens are dead and another is missing. She brings in officers from her last big case as she respects their input and needs their contribution. The descriptions of the bodies is quite graphic as they have had their hands removed and teeth smashed to avoid dental or fingerprint identification. Hauntingly, the most recent victim sewed her name into the shroud and this causes an emotional spike and additional determination for Alice.
I really love Alice's character. She has issues from her past which came to the fore in the last book. Now she is trying to focus on the case, bringing a fresh pair of eyes to the situation. The author creates a fast pace through quite short chapters and the writing style was gripping as the plot develops. I kept thinking I had guessed how the events would play out but in fact I was skilfully misdirected.
The Ravenswood Murders was a compelling killer thriller and I can't wait for the next book!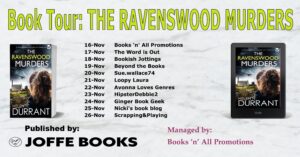 THE RAVENSWOOD MURDERS by Helen H. Durrant
MEET DETECTIVE ALICE ROSSI IN THIS BRILLIANT NEW BRITISH CRIME SERIES FULL OF STUNNING TWISTS.
A brand-new mystery from #1 bestselling author Helen H. Durrant that will have you gripped from start to explosive finish.
Day 1. A young woman's body is found in a shallow grave in the woods, buried in a white shroud. She's been dead for a week. Her teeth are smashed in, her lips stitched together. Her hands are missing.
She's the fourth young woman found like this.
With no witnesses, no clues and no leads to follow, the investigation is going nowhere.
That's when Detective Alice Rossi is called in.
Alice knows this case is a poisoned chalice. Not least because she has a new team to contend with — who don't like being bossed around by a woman.
Day 2. Sixteen-year-old Maggie Hewson is reported missing. She never came home from school, and her father is beside himself.
Will she be the fifth girl to die?
Perfect for fans of Angela Marsons, Rachel McLean, Joy Ellis, J.D. Kirk, Rachel Abbott, Elly Griffiths or J.M. Dalgliesh.
READERS LOVE THE DETECTIVE ALICE ROSSI BOOKS:
⭐⭐⭐⭐⭐ 'Full of suspense with a storyline that kept me guessing right up until the end.' Annette T.
⭐⭐⭐⭐⭐ 'A really good read . . . the perfect balance of investigation versus personal drama for the lead.' Linda B.
⭐⭐⭐⭐⭐ 'The start of a fabulous new series from Helen H. Durrant . . . Brilliant book — I loved it!' Charlotte M.
⭐⭐⭐⭐⭐ 'A very enjoyable read and I am looking forward to the next book in the series.' Sandra G.
⭐⭐⭐⭐⭐ 'I absolutely love Alice Rossi . . . This is a gripping edge-of-your-seat thriller that will have you turning page after page all the way to the end. Absolutely brilliant, I can't wait for book 2.' Jill B.
⭐⭐⭐⭐⭐ 'The story line flows along nicely, making it an enjoyable read, with a nice twist, leaving you keen for the next instalment which will surely follow. Recommend.' Iain McC.
⭐⭐⭐⭐⭐ 'Another stunningly good police procedural from Helen H. Durrant. Fabulous plot and great characters, with everything I want from a whodunnit.' Amanda P.
⭐⭐⭐⭐⭐ 'A great start to a new series . . . I couldn't put it down. Amazing storyline.' Michelle G.
⭐⭐⭐⭐⭐ 'Thoroughly gripping and suspenseful with an astonishing surprise. Not one to be missed.' Carol S.
THE DETECTIVE
DCI Alice Rossi of Greater Manchester's Serious Crime Squad has served with the police for the past twenty-nine years. Since the death of her husband, Paul, six years ago, she has lived alone in a large, three-storey Edwardian terrace on the outskirts of Manchester. Her grown-up son lives in Edinburgh with his family. Alice is about to retire — but she's not looking forward to it. Since her husband died, work has been her mainstay, not because she misses Paul — he was a bad man — but because it keeps her dark thoughts at bay.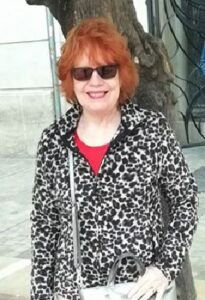 HELEN H. DURRANT
OVER 1.5 MILLION BOOKS SOLD!
Helen is one of the 'baby boomer' generation and began writing when she retired from her job at a local college. Born in Edinburgh to an English father and Scottish mother the family settled in a Pennine village between the counties of Lancashire and Yorkshire. It is an environment which has shaped her stories. Writing is a second career and, despite having a bus pass, keeps her busy, and tuned in.
Helen's children are all grown-up and she has five grandchildren.
BOOKS BY HELEN H. DURRANT
CALLADINE & BAYLISS SERIES:
DEAD WRONG

DEAD SILENT

DEAD LIST

DEAD LOST

DEAD & BURIED

DEAD NASTY

DEAD JEALOUS

DEAD BAD

DEAD GUILTY

DEAD WICKED

DEAD SORRY

DEAD REAL
DI GRECO SERIES:
DARK MURDER

DARK HOUSES

DARK TRADE

DARK ANGEL
DI MATHEW BRINDLE SERIES:
HIS THIRD VICTIM

THE OTHER VICTIM
DCI RACHEL KING SERIES:
NEXT VICTIM

TWO VICTIMS

WRONG VICTIM

FORGOTTEN VICTIM

LAST VICTIM
DETECTIVES LENNOX & WILDE SERIES:
THE GUILTY MAN

THE FACELESS MAN

THE WRONG WOMAN

DETECTIVES LENNOX & WILDE BOOKS 1-2
DETECTIVE ALICE ROSSI MYSTERY SERIES:
FOLLOW HELEN ON