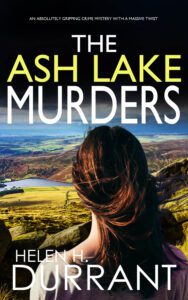 A serial killer is on the loose, attacking people at a lakeside retreat. DCI Alice Rossi is called in to investigate when it becomes clear that the perpetrator is the Mad Hatter killer who has been her nemesis for a number of murders. Now the Mad Hatter openly declares that Alice will be among the next victims…
The Ash Lake Murders is the first book in a new series featuring DCI Alice Rossi. There seems to be an established history with the Mad Hatter killer but we are caught up on enough detail to make this completely gripping.
The book begins with Callum being held by a mystery woman. She kills hims and disposes of his body with a mind to revealing a previous murder. I was instantly engaged with the plot and interested by the female serial killer. We then meet Alice who seems like a nice person so I wanted to know why the Mad Hatter has a vendetta agains her.
The plot kept me guessing and the pace is quite fast. Tension is maintained and our dread that something might happen to Alice is cleverly created and sustained. The author shows us the emotion of the murder victims' families as they wait for news but also Alice as she struggles to cope with reminders of her abusive ex.
The Ash Lake Murders was a gripping detective murder mystery and a great start to a new series. I can't wait for the next book!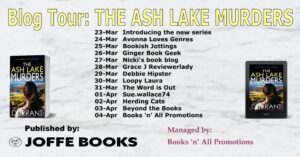 The Ash Lake Murders
MEET DETECTIVE ALICE ROSSI IN THIS BRILLIANT NEW CRIME SERIES.
A brand-new mystery from #1 bestselling author Helen H. Durrant that will have you gripped from start to explosive finish.
A female serial killer with a deadly agenda. The detective who must stop her. Luxury holiday lodges in the stunning Peak District. The game begins . . .
Callum is lured to an isolated boathouse by an attractive older woman. When she gets him alone, she knocks him out with a single blow. As he wakes up, her voice comes out of the darkness, "You're a sprat to catch a mackerel."
Surrounded by hills and lakes, Still Waters is home to a close-knit community of wealthy retirees. It's an unlikely setting for violence. The police don't take Callum's disappearance seriously: he's 24-years-old, after all. But Callum's mother, a Still Waters resident, knows that something is very wrong.
Then a body is discovered floating in the lake. Head bashed in. But it's not Callum.
And someone tweets: Come out to play one last time, Alice. Still Waters run deep. #MadHatter.
That's when DCI Alice Rossi is called in. She's back.
IT'S A CAT-AND-MOUSE GAME BETWEEN AN OBSESSED KILLER AND A DETERMINED DETECTIVE IN THIS GRIPPING MYSTERY FULL OF STUNNING TWISTS.
Perfect for fans of Angela Marsons, Rachel McLean, Joy Ellis, J.D. Kirk, Rachel Abbott, Elly Griffiths, J.M. Dalgliesh, Steph Broadribb or Patricia Gibney.
READERS LOVE HELEN H. DURRANT:
⭐⭐⭐⭐⭐ "Another first-class read from Helen H. Durrant." Iain
⭐⭐⭐⭐⭐ "A satisfying and enjoyable read." Carol S.
⭐⭐⭐⭐⭐ "Wow . . . this will keep you on the edge of your seat. Brilliant story from this author." Booklover Bev
⭐⭐⭐⭐⭐ "Loved it. Read it in one sitting." Aileen G.
THE DETECTIVE
DCI Alice Rossi of Greater Manchester's Serious Crime Squad has served with the police for the past twenty-nine years. Since the death of her husband, Paul, six years ago, she has lived alone in a large, three-storey Edwardian terrace on the outskirts of Manchester. Her grown-up son lives in Edinburgh with his family. Alice is about to retire — but she's not looking forward to it. Since her husband died, work has been her mainstay, not because she misses Paul — he was a bad man — but because it keeps her dark thoughts at bay.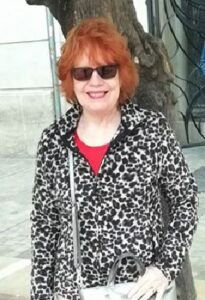 ALSO BY HELEN H. DURRANT
DETECTIVE ALICE ROSSI
Book 1: THE ASH LAKE MURDERS
DETECTIVE RACHEL KING
Book 1: NEXT VICTIM
Book 2: TWO VICTIMS
Book 3: WRONG VICTIM
Book 4: FORGOTTEN VICTIM
Book 5: LAST VICTIM
THE CALLADINE & BAYLISS MYSTERY SERIES
Book 1: DEAD WRONG
Book 2: DEAD SILENT
Book 3: DEAD LIST
Book 4: DEAD LOST
Book 5: DEAD & BURIED
Book 6: DEAD NASTY
Book 7: DEAD JEALOUS
Book 8: DEAD BAD
Book 9: DEAD GUILTY
Book 10: DEAD WICKED
Book 11: DEAD SORRY
THE DCI GRECO BOOKS
Book 1: DARK MURDER
Book 2: DARK HOUSES
Book 3: DARK TRADE
Book 4: DARK ANGEL
MATT BRINDLE
Book 1: HIS THIRD VICTIM
Book 2: THE OTHER VICTIM
DETECTIVES LENNOX & WILDE
Book 1: THE GUILTY MAN
Book 2: THE FACELESS MAN