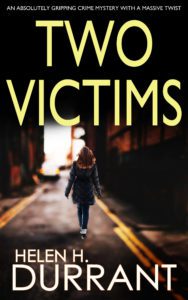 Following on from the dramatic events in Next Victim, DCI Rachel King has a new murder case. And once again her personal life is put under scrutiny due to her past relationship with crook Jed McAteer.
Agnes, a seemingly kind woman who helps the homeless and runaways is murdered and the police find a second body at the murder scene. Both women have been killed with a single gun shot to the head, execution style. The investigation takes on a new dimension as they discover the identity of the second victim and the case involves gangs and sex trafficking.
Rachel's team are thwarted by a rival police force investigating the gang element, and are warned to stay away. But tenacious Rachel is determined that her murder victims will receive justice.
Added to this situation is Jed's ownership of the murder site so it is impossible for Rachel to avoid her former love.
I don't normally enjoy gang related stories as I can't really identify with that sort of lifestyle. However, the author cleverly makes the gang element relevant to readers of my age and background by showing the human element through Agnes' attempts to help the women being trafficked and controlled.
I enjoyed the further character development of Rachel. Her past continues to impact on her present, both in personal and professional terms. Her future remains uncertain due to her links with Jed and the secrets she is hiding from her family which might also affect her career.
Two Victims is a solid and interesting police procedure novel. The police characters are all strong with believable personal backgrounds, and they work well together as a team whilst also trying to promote their own career prospects. There are clinical forensic details but not any gratuitous violence or graphic detail.
Helen H. Durrant has written other police series and I have reviewed Dead Guilty.

Two Victims (Detective Rachel King #2) by Helen H Durrant
MEET DETECTIVE RACHEL KING IN THIS BRILLIANT NEW CRIME SERIES. DISCOVER A BRAND NEW MYSTERY FROM #1 BEST-SELLING AUTHOR HELEN H. DURRANT THAT WILL HAVE YOU GRIPPED FROM START TO PULSATING FINISH.
A MURDERED WOMAN FOUND ON A BUILDING SITE
. EXECUTED BY A SINGLE GUN

SHOT. BUT WORSE IS TO COME. ANOTHER BODY IS FOUND BURIED IN THE SAME PLACE.
Detective Rachel King has two victims to deal with.
The first woman was local nurse,

Agnes Moore. One of the victim's friends makes contact but then disappears. Does Rachel have a serial killer on her hands? And what was Agnes really helping local girls with?
Will Rachel's former lover, well-know villain Jed McAteer come back to haunt her with his connections to the victims.
Who will pay the ultimate price next?
A MYSTERY WITH A STUNNING TWIST AND A RACE AGAINST TIME TO SAVE HER CAREER AND STOP A MURDER SPREE.
Perfect for fans of Angela Marsons, Kimberley Chambers, Damien Boyd, Rachel Abbott, Patricia Gibney or Mark Billingham.
DCI Rachel Ki
n

g

.

Thirty-nine year-old mother of two teenage daughters. Divorced from

Alan. She lives in the Cheshire village of Poynton – about ten miles from central Manchester. She is good at her job, gets results but does make mistakes. One of them was getting involved with a budding villain in her teens. No one, family, friends or colleagues know anything about this.
ALSO BY HELEN H. DURRANT
RACHEL KING
Book 1: Next Victim
Book 2: Two Victims

HELEN H. DURRANT
OVER 750,000 books sold of her Calladine & Bayliss and DI Greco series
I'm one of the 'baby boomer' generation. I was born in Edinburgh to an English father and Scottish mother. My father was from the North West of England and this was where the family settled. I know the area well, both the good and the bad, and so I set my books here. Sitting between two counties, Lancashire and Yorkshire, and between the city and the hills, it offers a rich mix of the industrial and the countryside and all the character therein. I always planned to write crime novels — to create the characters in my books. Since my retirement from a busy teaching job in FE, this is what I've done — almost to exclusion of anything else!
I have a grown-up family and five grandchildren. They see me as something of an eccentric — always on my laptop writing away. Writing is something of a second career and, despite having a bus pass, keeps me busy, young and tuned in the world as it currently is.
Twitter @hhdurrant
Facebook

h

t

t

ps

:

/

/

www.

f

a

c

e

bo

o

k

.

c

o

m/

h

e

le

n

.

du

r

r

a

n

t

.

1

2
Facebook Page

h

t

t

ps

:

/

/

www.

f

a

c

e

bo

o

k

.

c

o

m/

pa

ge

s

/

C

a

ll

a

din

e

–

Ba

ylis

s

D

e

t

e

c

t

ive
No
ve
ls
/
6
1
4
0
4
7
6
4
8
6
1
6
6
1
9
?r
e
f
=
h
l
Website

h

t

t

ps

:

/

/

www.

h

e

le

n

h

du

r

r

a

n

t

.

c

o

.

u

k

/