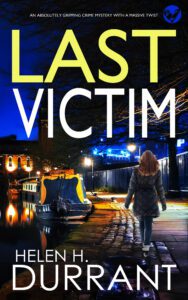 DCI Rachel King is returning to work after maternity leave and is thrown straight into a kidnapping case of an infant. The child is the son of local gangster and suspicion falls upon Rachel's lover, former gang boss Jed. Can she solve the case and clear his name?
Last Victim is the fifth book to feature Rachel King, her family and her career. I have previously read, enjoyed and reviewed the first two books in the series.
Rachel and we readers are straight into the action as we learn of the baby's kidnap. Other abductions then take place and the link to the three gangsters known as The Trio is obvious. The drug and gang underworld is touched upon and the danger is clear as threats are made to Rachel. A murder ensues which increases the challenge of the investigation.
Rachel faces tension in her personal life as her partner Jed lets her down with child care due to his business. Their relationship is put under further pressure when her boss sees Jed as a possbile suspect in the kidnapping case and removes Rachel from the investigation. She won't be sidelined and starts looking for alternative angles to solve the case.
There is huge emotion in this book due to the kidnapping of a child which will resonate with all readers. Rachel's conflict as she struggles with her personal and professional worlds colliding is credible and authentic. The descriptions of the danger faced by certain homeless characters also tugs at the heart. The pace of the book is quite fast and the plot twists and turns to a jaw dropping conclusion.
Last Victim is an enjoyable and intriguing police procedural and crime thriller novel.
LAST VICTIM (Detective Rachel King #5) by Helen H Durrant
MEET DETECTIVE RACHEL KING IN THIS BRILLIANT NEW CRIME SERIES.
A BRAND-NEW MYSTERY FROM #1 BESTSELLING AUTHOR HELEN H. DURRANT THAT WILL HAVE YOU GRIPPED FROM START TO PULSATING FINISH.
A two-month-old baby is missing. James's parents left him with a babysitter while they went out for dinner. But when they get home, there's no sign of baby or sitter.
This is the last thing DCI Rachel King wants to hear on her last night of maternity leave. But worse is to come. The missing infant belongs to Scott Agnew, alleged member of Manchester drug-dealing ring, the Trio.
Then the elderly mother of another Trio boss disappears. Rachel knows that if these are retaliation kidnappings, things will only go from bad to terrible.
And guess who everyone thinks is behind this? The prime suspect is Rachel's partner Jed, ex-gangland boss and father of her youngest child.
FIND OUT IF THEY'RE RIGHT IN THIS RACE-AGAINST-TIME MYSTERY FULL OF STUNNING TWISTS.
Perfect for fans of Angela Marsons, Rachel McLean, Kimberley Chambers, Damien Boyd, Rachel Abbott, Patricia Gibney, D.S. Butler or Mark Billingham.
WHAT READERS ARE SAYING ABOUT HELEN H. DURRANT:
"I couldn't put it down." Barbara
"This new series by Helen H. Durrant certainly has got off to a thrilling start." Viv
"If you want a book to get your teeth into, this is the one. A massive 5*." Greta
"Another fast-paced murder mystery." Aileen
"The writing was top notch and the characters were very real." Kat
THE DETECTIVE
DCI Rachel King. Mother of two teenage daughters. Divorced from Alan. She lives in the Cheshire village of Poynton – about ten miles from central Manchester. She is good at her job, gets results but does make mistakes. One of them was getting involved with a budding villain in her teens. No one — family, friends or colleagues know the truth about this.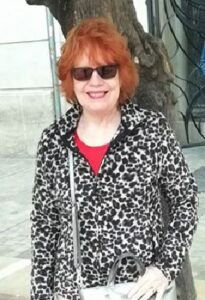 About the author: HELEN H. DURRANT
OVER 1 MILLION BOOKS SOLD!
Helen is one of the 'baby boomer' generation and began writing when she retired from her job at a local college. Born in Edinburgh to an English father and Scottish mother the family settled in a Pennine village between the counties of Lancashire and Yorkshire. It is an environment which has shaped her stories. Writing is a second career and, despite having a bus pass, keeps her busy, and tuned in.
Helen's children are all grown-up and she has five grandchildren
ALSO BY HELEN H. DURRANT
DETECTIVE RACHEL KING
Book 3: WRONG VICTIM
Book 4: FORGOTTEN VICTIM
Book 5: LAST VICTIM
THE CALLADINE & BAYLISS MYSTERY SERIES
Book 1: DEAD WRONG
Book 2: DEAD SILENT
Book 3: DEAD LIST
Book 4: DEAD LOST
Book 5: DEAD & BURIED
Book 6: DEAD NASTY
Book 7: DEAD JEALOUS
Book 8: DEAD BAD
Book 11: DEAD SORRY
THE DCI GRECO BOOKS
Book 1: DARK MURDER
Book 2: DARK HOUSES
Book 3: DARK TRADE
Book 4: DARK ANGEL
MATT BRINDLE
Book 1: HIS THIRD VICTIM
Book 2: THE OTHER VICTIM
DETECTIVES LENNOX & WILDE
Book 1: THE GUILTY MAN
Book 2: THE FACELESS MAN