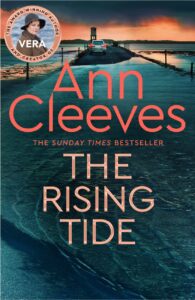 A group of friends meet every 5 years on Holy Island to celebrate their friendship forged fifty years ago. One of the friends is found dead after an apparent suicide but DI Vera Stanhope believes it was murder…
The Rising Tide is the 10th book to feature DI Vera Stanhope. It is the first book in the series that I have read, although I have watched all of the TV episodes.
Vera is a fab lead detective and woman. She is intuitive and usually proved right. Her relationship with her sergeant shows her maternal side but also smacks of favouritism which shows she is vulnerable to flaws. Her dress sense and attitiude to food is abysmally sloppy which leads others to misjudge and underestimate her. She has an innate confidence in her own abilities and champions the truth.
This murder case is set on a island so the atmosphere is quite claustophobic. There are a limited number of suspects and none with any apparent motive. Vera starts to unpick the relationships between the friends and incidents in the past that may have a bearing on the case.
I enjoyed the character development, especially of the police even though they are an established team and this is a series. The rivalry between Joe and Holly as well as the home life elements make the characters more realistic. But it is really Vera's character that shines and creates the opportunities for us to view the others through her relationships with them (both police and suspects).
The Rising Tide is an entertaining police thriller and I hope to read the earlier books shortly as well as wait for this to be adapted for TV.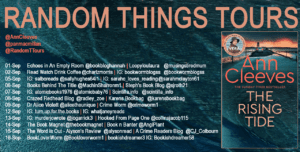 THE RISING TIDE
Published 1st September 2022, Pan Macmillan, priced £20 H/B
'One of the best natural writers of detective fiction' SUNDAY EXPRESS
Ann Cleeves returns with the TENTH in her acclaimed Vera Stanhope series, in which a school reunion turns deadly as the tide rises on Northumbria's Holy Island.
Fifty years ago, a group of teenagers spent a weekend on Holy Island, forging a bond that has lasted a lifetime. Now, they still return every five years to celebrate their friendship, and remember the friend they lost to the rising waters of the causeway at the first reunion.
Now, when one of them is found hanged, Vera is called in. Learning that the dead man had recently been fired after misconduct allegations, Vera knows she must discover what the friends are hiding, and whether the events of many years before could have led to murder then, and now . . .
But with the tide rising, secrets long-hidden are finding their way to the surface, and Vera and the team may find themselves in more danger than they could have believed possible . . .
'The best living evoker of landscape' THE GUARDIAN
'Cleeves's Northumberland novels are strong on atmosphere, combining old-fashioned detective work with a modern take on class' SUNDAY TIMES
'The master of innuendo, smooth prose and deeply drawn characters'HERALD
ANN CLEEVES is the author of more than thirty-five critically acclaimed novels, and in 2017 was awarded the highest accolade in crime writing, the CWA Diamond Dagger. She is the creator of popular detectives Vera Stanhope, Jimmy Perez and
Matthew Venn, who can be found on television in ITV's Vera, BBC One's Shetland and ITV's The Long Call respectively. The TV series and the books they are based on have become international sensations, capturing the minds of millions worldwide. 2022 marks 30 years of publishing with Pan Macmillan.
Ann worked as a probation officer, bird observatory cook and auxiliary coastguard before she started writing. She is a member of 'Murder Squad', working with other British northern writers to promote crime fiction. Ann also spends her time advocating for reading to improve health and wellbeing and supporting access to books. In 2021 her Reading for Wellbeing project launched with local authorities across the North East. She lives in Northumberland where the Vera books are set. You can find Ann on Twitter and Facebook @AnnCleeves.

THE RISING TIDE is also available in ebook and audio
PRAISE FOR THE DARKEST EVENING & ANN CLEEVES
'Less country house mystery than a countryside one, as she struggles to unravel the tangled links between taciturn rural folk. A Thoroughly engrossing thriller' MAIL ON SUNDAY
'The Darkest Evening is a classic Christmas murder mystery complete with spooky country house, troubled toffs and surly, secretive locals' RADIO TIMES
'Brilliantly written with more twists and turns than you can shake one of Vera's hats at' HEAT
'Cleeves is quietly carving out a reputation as the new Queen of Crime' SUNDAY MIRROR
'Nobody does unsettling undercurrents better than Ann Cleeves' VAL MCDERMID
'Ann Cleeves is a skilful technician…one of the best natural writers of detective fiction' SUNDAY EXPRESS
'Cleeves weaves an absorbingly cunning mystery' DAILY MAIL
'Everything is told crisply in scenes full of sharply observed detail' INDEPENDENT
'A fine writer' SUNDAY TELEGRAPH
'A dark, interesting novel with considerable emotional force behind it' SPECTATOR
'Who doesn't love 'large and shabby' Vera Stanhope, the blunt detective in Ann Cleeves's Northumberland police procedurals? She is already one of the genre immortals. Cleeves delivers some choice Vera moments in The Darkest Evening' NEW YORK TIMES
'Great sense of place, well-rounded characters and a cracking plot' WOMAN & HOME
'A triumph that cements Cleeves' status as one of Britain's best crime writers' DAILY EXPRESS