1968, Irene Borgata goes missing, presumed dead. In the present day her husband (or widower) is accused of her murder by an investigative TV journalist. The family call in April Copain, an English detective, to prove Enzo's innocence…
The Secret of Villa Alba is a dual timeline mystery, domestic drama, psychological thriller, all rolled into one!
April's friend Maddi asks her to help the Borgata family against allegations of harbouring a murderer. She travels to Sicily to investigate the disappearance of Maddi's stepmother decades earlier. I felt myself transported there too as the author brings the characters and setting to life through vivid descriptions.
The book is written in the past and present. Irene's experience of being a new bride are written in the first person and we learn of her preoccupation with another man, Jack. The present day is written in the third person to show April's investigation into Irene's disappearance as she reels from the death of her own husband.
I was swept up in the plot and had no idea how the mystery would resolve. The family are close-knit in both the past and present and I was unsure what lies they would tell to protect each other. I enjoyed the twists and turns of the plot developments which maintained my interest in the characters as I wanted them to find the truth.
The Secret of Villa Alba is an enjoyable mystery full of drama and family dynamics.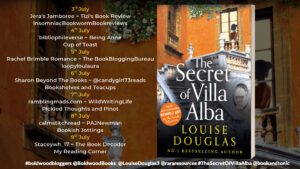 The Secret of Villa Alba
1968, Sicily.  Just months after a terrible earthquake has destroyed the mountain town of Gibellina, Enzo and his wife Irene Borgata are making their way back to the family home, Villa Alba del Ciliegio, on roads overlooked by the eerie backdrop of the flattened ghost town.  When their car breaks down, Enzo leaves his young wife to go and get help, but when he returns there is no trace of Irene.  No body, no sign of a struggle, nothing.
Present Day. TV showman and true crime aficionado Milo Conti is Italy's darling, uncovering and solving historic crimes for his legion of fans. When he turns his attention to the story of the missing Irene Borgata, accusing her husband of her murder, Enzo's daughter Maddi asks her childhood friend, retired detective April Cobain, for help to prove her father's innocence. But the tale April discovers is murky: mafia meetings, infidelity, mistaken identity, grief and unshakable love.  As the world slowly closes in on the claustrophobic Villa Alba del Ciliegio, and the house begins to reveal its secrets, will the Borgata family wish they'd never asked April to investigate? And what did happen to Enzo's missing wife Irene?
Bestselling author Louise Douglas returns with an irresistibly compelling, intriguing and captivating tale of betrayal, love, jealousy and the secrets buried in every family history..

Author Bio –
Louise Douglas is the bestselling and brilliantly reviewed author and an RNA award winner. The Secrets Between Us was a Richard and Judy Book Club pick. She lives in the West Country.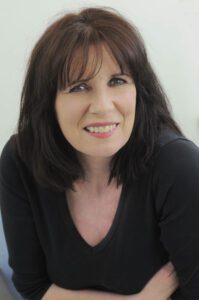 Social Media Links –