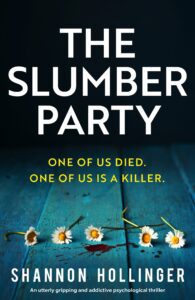 Four girls ready for their prom, graduation and 18th birthdays. But one night changes everything. Fifteen years later and the truth is finally about to be revealed…
The Slumber Party is a dual timeline psychological thriller set in America.
Liz, Sami, Amy and Mo used to be inseparable but fifteen years later life and death has got in the way of their friendship. Now the past secrets are ready to be uncovered when a body is found. Liz starts to receive sinister notes but one of her former best friends really be a threat to her family?
I enjoyed the use of the two timelines to show the past and present. Each chapter clearly states the year and narrator. The book uses multiple first and third person narratives to reveal the plot. This allows us to see the emotions of the individuals which helps us to understand the motives behind their actions. I felt that the past timeline and teen characters had more authenticity and were more believable.
The minutiae of the girls' relationships in the past is gradually revealed, building up to prom night when everything changed. The big twist was fairly easy to figure out in advance but there were more surprises and details that I was not expecting.
The Slumber Party was an enjoyable psychological thriller.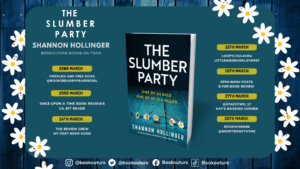 MEDIA PACK
Book: The Slumber Party
Author: Shannon Hollinger
Pub Day:  March 22nd 2023
Buy Link(s):
About the Book: 
Fifteen years ago: On a warm summer's evening, four childhood friends gather at a slumber party… Before dawn breaks, the nightmare begins. One of them dies. One of them is a killer.





Liz

 was the bubbly girl-next-door. She could never have imagined how everything would fall apart.



Sami

 was the clever one, quieter than the others. She was meant to keep all their secrets…



Amy

 had the voice of an angel, destined for Hollywood. She would never make it there.



Mo

 was leader of the group, charismatic and protective. But she was not who she appeared to be…

They were childhood friends, on the cusp of the rest of their lives. They'd shared everything with each other. Or so they thought… 

Until one of them died.





Today:

 Liz tries not to think about the night that destroyed their lives. She focuses on her beloved husband and their sweet-eyed daughter. But when she receives a note, there's no more running away: "I'm back. Did you miss me?"

A wave of dizziness crashes over her. Her best friend can't be back. She's dead.So who sent the note? What do they know? And, most terrifying of all, are they planning to make her pay for what happened…?



A totally gripping, heart-stopping thriller about twisted friendships, dark pasts, and secrets to die for… If you love 

The Night She Disappeared

, 

Girl A

 and 

The Housemaid

, you'll love 

The Slumber Party

.

Author Bio
With degrees in Crime Scene Technology & Physical Anthropology, Florida author Shannon Hollinger hasn't just seen the dark side of humanity – she's been elbow deep inside of it! She finds writing to be a much cleaner way to spend her time than the autopsy suite. Most days it smells better, too.
Her debut novel, the psychological thriller Best Friends Forever, is the first of a five-book deal with publisher Bookouture.
Her short fiction has appeared in Suspense Magazine, Mystery Weekly, and The Saturday Evening Post, among a number of other magazines and anthologies, and her story Lady Killer was a finalist for the 2021 Al Blanchard Award sponsored by the New England Crime Bake.
Social Media