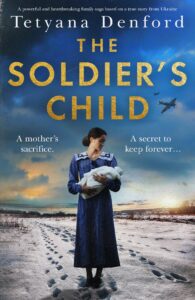 Katya dreams of a brighter future as she experiences war. She falls in love with a soldier but they are cruelly separated by her family when she becomes pregnant and is forced to give up the child. Her hopes for the future are embodied in her son but will they ever be reunited…
The Soldier's Child is an historical novel showing the generations of a family torn apart by war and lies.
I felt so sorry for Katya. She has such passion and determination and wants a better future for herself. Falling in love wasn't on her radar but was irresistable when she met Sasha. She knows her family won't approve of the relationship and is prepared to run away to be with him. However, the plan is foiled by her sister in law and Katya is forced to watch her child being raised by others.
There is a sinister and dangerous plot twist as Katya is sent to a prison camp, yet she never loses her hope and focus on her son. The book then changes dynamic as it follows her son Alexander's story as we hope for a happy reunion.
I felt that the descriptions of the geographical and historical settings were vivid and brought the plot to life. The characters were richly complex which gave an authenticity to their actions and opinions. There is a lot of emotion in this book and I really felt strongly for Katya as she struggles to survive physically and emotionally.
The Soldier's Child is an emotional and vividly described historical novel. I have previously reviewed The Child of Ukraine by Tetyana Denford.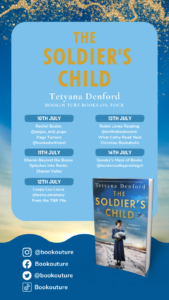 The Soldier's Child: A powerful and heartbreaking WW2 saga based on a true story
"He is mine, he is ours," she whispers, as the tears in her eyes gather in the corners. She holds her baby tightly, her breath coming out in ragged gasps, knowing that she needs to give her child to her brother forever. But will she ever be able to tell her child the truth about who his real mother is?
Ukraine, 1941. War has ripped Katya's country and heart in two. When two soldiers knock down her door and force her into a truck, she knows deep down that this might be the last time she ever sees home. As she is driven away to a labor camp, she looks out the tiny window at the barren winter landscape and thinks only of her son Alexander, who she was forced to leave behind and may never see again…
Decades later, Katya has tried to rebuild her life after the horrors of war, but she still clings on to the hope of being reunited with her precious son. But whilst Katya has stayed in Ukraine, little does she know that her son moved his family to America years before in search of a better life.
Can she find peace without knowing what happened to him? Will Katya ever be able to reunite with Alexander and tell the truth about who she is? Or will they be defeated by the war that has already taken so much from them?
Based on the incredible true events of the author's family, this is an emotional and gripping story of family, struggle, and the unwavering strength of hope. Perfect for fans of The Four Winds, Beneath A Scarlet Sky, and All the Light We Cannot See.
About the author
Tetyana Denford grew up in a small town in New York, and is a Ukrainian-American author, translator, and freelance writer. She grew up with her Ukrainian heritage at the forefront of her childhood, and it led to her being fascinated with how storytellers in various cultures passed down their lives to future generations; life stories are where we learn about ourselves, each other, and are the things that matter most, in a world where things move so quickly.
Author social media
Website
Facebook URL
Instagram URL
Twitter URL
Newsletter sign up