Jess ends up in Sydney, homeless and jobless. She is recovering from the end of a relationship three years ago which still dominates her thoughts. Incredibly, she bumps into Sam in a shop; he's the man she has been trying to heal her heart against…
Sam invites her to stay in the spare bedroom of his apartment while she waits for her non-existent flat and job to be available. She readily accepts, hoping to rekindle their romance but his flatmate is his fiancee Jamie. Jess can't bear not to try to win him back 🙁
Jess' desperation is sometimes uncomfortable to read although I'm sure that many readers will identify with her pain at the end of a relationship. Part of most chapters includes a past timeline so we can see her relationship with Sam from start to finish. It becomes obvious that she repeatedly changed to suit him and gave up her own passions and dreams. Sam is an interesting character as we only ever see him through Jess' eyes.
I had really mixed emotions about Jess and her situation. I remember breaking up with my uni boyfriend and being devastated, determined to keep the long distance relationship going. I then became comfortable and confident in myself and accepted we weren't right for each other. I'm sure many others have been in that situation too and will identify with her heartbreak.
I could also feel sympathy for Jess lying to cover up her lack of home and job but she doesn't take responsibility for herself which was incredibly frustrating. Her scheme to split up Sam and Jamie showed an unpleasant side to her, yet she was concerned for him as a friend and didn't want him to make a mistake. Selfishness and altruism combined! Like I said, a complicated response to her character!
The Spare Bedroom is a warm and enjoyable book. There is love and loss, lies and miscommunication, hope and heartache.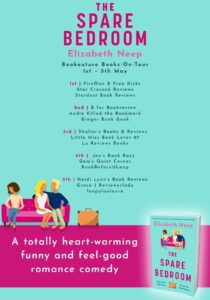 The Spare Bedroom book description:
**Listed Today**: Fun and friendly professional just arrived from London seeks room in central location, double bed preferred, ex-boyfriend optional extra.
Armed with a super-sized backpack full of optimism, Jess sets off in search of sun, sea and a much-needed new beginning.
Things don't get off to a good start.
Instead of sunshine, she's met with torrential rain. Her job prospects are as dismal as the weather and that friend-of-a-friend she was meant to stay with has fallen through. Just as Jess is homeless, jobless and wishing she'd gone for the waterproof mascara, she runs into the last person she expected to see. Sam. The ex she never got over. Jess always believed that one day fate would bring them back together. Now he's here, more gorgeous than ever.
Before she knows it, Jess is accepting Sam's offer to stay in his spare room. But while she may have been less than truthful about the mess she's in, there is also one rather important thing Sam has neglected to mention.
Suddenly Jess isn't just living with her ex, but with his new girlfriend too. All of that baggage she thought she left behind may have caught up with her…
A touching, funny and uplifting look at how finding and losing love can lead you to discover yourself along the way. Fans of Mhairi McFarlane, Sophie Kinsella and classic rom coms like My Best Friend's Wedding will love Elizabeth Neep's wit and warmth.
Author Bio:
Elizabeth Neep was born in 1990 in Derbyshire and now lives in London Bridge. After studying Law at the University of Nottingham and the University of New South Wales, she worked in magazine journalism, most noticeably writing for Dazed and Confused and PETRIe. Elizabeth now works as a non-fiction Senior Commissioning Editor and writes and paints in her spare time.
https://www.elizabethneep.com/
https://www.instagram.com/elizabeth_neep/?hl=en
@elizabeth_neep
Buy Links:
Amazon: https://bit.ly/3aErBir
Apple books: https://apple.co/3aIB08X
Kobo: https://bit.ly/2Scsg4j
Google Play: https://bit.ly/2Y7r5qM