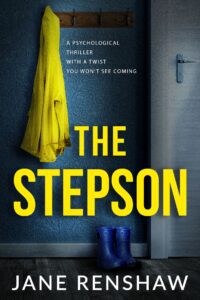 After a whirlwind romance and marriage within 6 months, Lulu still feels excited and happy with Nick. But he has never spoken about his past and his vanished family. Now she forces him to return to his childhood home and confront the truth…
The Stepson is a dual timeline psychological thriller, set in the present day and the 1990s. The book is written from two perspectives: Lulu in the present day and Maggie, Nick's stepmother in the past.
Lulu is a psychologist and determined to help Nick through the pain of his past. He is charming and devoted but a different side is emerging as well. Their relationship struggles as he is over-anxious and controlling due to his fears which stem from the disappearance of his whole family two decades earlier.
In the 1990s timeline we see a different, teenaged, Nick through his stepmother's eyes. He is cruel and dangerous. Maggie is quite an abrasive characters herself, with a criminal past. But even she fears Nick's behaviour especially towards her newborn daughter.
The plot had me hooked as the two timelines reveal dangerous situations in both the past and present. It is easy to make guesses about how the plot will unravel but the twists and turns mean surprise developments occur.
The Stepson is an entertaining psychological thriller with strong narration in both timelines.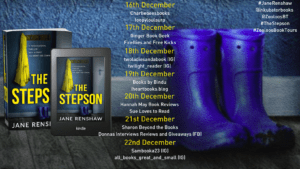 Book Blurb
He lost one family. Now he's ready for another.
Psychotherapist Lulu is sure she's the luckiest woman alive. She has a wonderful job and is married to the love of her life, Nick – who also happens to be ridiculously handsome and fabulously wealthy.
But now a shadow has fallen on her perfect life.
She can see that Nick is struggling with demons from his past. When he was sixteen his entire family disappeared without a trace and Nick has always insisted that his stepmother – whom he hated – was to blame, that she did something terrible to his beloved father and baby sister. And that trauma has left him feeling that anyone he loves is in danger, might vanish in a heartbeat.
So now he is obsessed with Lulu's safety. He needs to know where she is 24/7, insists she carries a can of pepper spray, is constantly watching for any potential threats.
Lulu can see that this extreme anxiety is wearing Nick down. And as a therapist, she knows the only way to heal a trauma is to confront it. So she persuades him to return to the country house from which his family vanished.
But soon after they arrive in this sleepy rural community, another person disappears.
As Lulu is forced to question everything she knows about Nick and his missing family, dark secrets emerge from the past. The certainties of her old life fade away and are replaced by a horror she could never have imagined in her wildest nightmares.
The Stepson – the stunning psychological thriller perfect for fans of Teresa Driscoll, K L Slater, Daniel Hurst.

Author Bio
As a child, Jane spent a lot of time in elaborate Lego worlds populated by tiny plastic animals and people. Crime levels were high, especially after the Dragon brothers set themselves up as vets and started murdering the animals in their 'care'. (They got away with it by propping the victims up with Plasticine and pretending they were still alive…)
As an adult, she is still playing in imaginary worlds and putting her characters through hell – but now she can call it 'writing' and convince herself that she is doing something sensible. In real life, she has a PhD in genetics and copy-edits scientific and medical journals.
Jane writes psychological thrillers. The Stepson will be her fourth novel published with Inkubator Books.
Follow her at:
Buy Links