This book is the fifth in the series to feature police officers Jackman and Evans. This books works well as a stand alone novel but there are lots of references to their last case which does make me deperate to know what happened!
The police are working on several different crimes but are they linked? Thefts of ridiculously expensive clothes, steroid smuggling and runaway teens. Then a body is found: is it connected to one of these cases?
Although I cannot imagine ever spending a lot of money of clothes I know others that do so I did not find the plot implausible. The workings of the criminal groups is fascinating and well thought out. I felt sympathetic to those involved due to their desperation for money and scorn for the mastermind who used them for his own gain.
I really enjoyed this book but a lot of the police get injured in the line of duty! The relationships between the police officers is well established and they have a great rapport and respect for each other. There are tensions with other characters but this allows us to see different aspects of their personality.
The previous case comes back to prominence at the end of the book setting it up for the next book in the series and I can't wait to read more!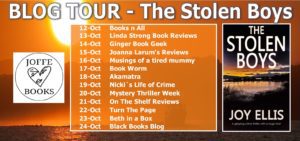 THE STOLEN BOYS by Joy Ellis
Do you love a gripping mystery with a huge twist? Then try this book by a #1 best-selling author now. You won't be able to put it down. By an author everyone's talking about.
A MYSTERY WHICH WILL CAPTIVATE YOU TILL THE STUNNING ENDING
A crime wave has hit town. The target is a highly sought-after brand of streetwear called Hybird X, clothing that costs a fortune and resells for unbelievable prices. Houses are burgled, young men mugged on the streets . . . and finally a young man dies, all for the sake of his shoes.
And then another boy's body is found in a pile of rubbish. Meanwhile illegal steroids are flooding the streets.
A shadowy figure called Darke and his teams of young criminals seem to be behind it all.
Detectives Jackman and Evans must take on a fiendish criminal, while still haunted by Alistair Ashcroft, the serial killer they never caught.
WHO IS DARKE AND WHAT DOES HE REALLY WANT?
Full of twists and turns, this is a crime thriller that will keep you turning the pages until the shocking ending.
THE DETECTIVES
DI Jackman leads the investigation. He is extremely smart and has a knack for bringing out the best in his diverse team. DS Marie Evans is haunted by the loss of her husband in a motorbike accident. She is fiercely loyal to her friends and colleagues.
Perfect for fans of Rachel Abbott, Sarah A. Denzil, Robert Bryndza, Mel Sherratt, Angela Marsons, Colin Dexter, or Ruth Rendell.
ALSO BY JOY ELLIS
THE NIKKI GALENA SERIES
Book 1: CRIME ON THE FENS
Book 2: SHADOW OVER THE FENS
Book 3: HUNTED ON THE FENS
Book 4: KILLER ON THE FENS
Book 5: STALKER ON THE FENS
Book 6: CAPTIVE ON THE FENS
Book 7: BURIED ON THE FENS
Book 8: THIEVES ON THE FENS
Book 9: FIRE ON THE FENS
JACKMAN & EVANS
Book 1: THE MURDERER'S SON
Book 2: THEIR LOST DAUGHTERS
Book 3: THE FOURTH FRIEND
Book 4: THE GUILTY ONES
Book 5: THE STOLEN BOYS
JOY ELLIS
UK #1 Best Seller
1 million books sold and rising!

"I was born in Kent but spent most of my working life in London and Surrey. I was an apprentice florist to Constance Spry Ltd, a prestigious Mayfair shop that throughout the sixties and seventies teemed with both royalty and 'real' celebrities. What an eye-opener for a working-class kid from the Garden of England! I swore then, probably whilst I was scrubbing the floor or making the tea, that I would have a shop of my own one day. It took until the early eighties, but I did it. Sadly the recession wiped us out, and I embarked on a series of weird and wonderful jobs; the last one being a bookshop manager. Surrounded by books all day, getting to order whatever you liked, and being paid for it! Oh bliss!
And now I live in a village in the Lincolnshire Fens with my partner, Jacqueline, and our two second generation Springer spaniels. I had been writing mysteries for years but never had the time to take it seriously. Now I can, and as my partner is a highly decorated retired police officer; my choice of genre was suddenly clear. I have set my crime thrillers here in the misty fens because I sincerely love the remoteness and airy beauty of the marshlands. This area is steeped in superstitions and lends itself so well to murder!"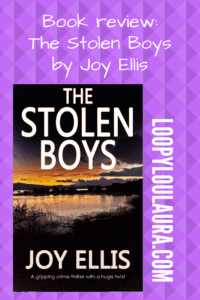 [amazon_link asins='B07JBCDCWH,B06XWDFRD2,B07BCFYVHK,B073Q2ZLTY' template='ProductCarousel' store='tiredmummyblog-21′ marketplace='UK' link_id='24231c7d-d111-11e8-bd19-994d3873ac99′]