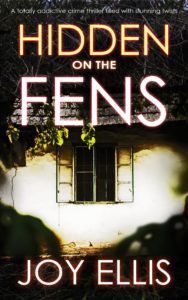 A new case for DI Nikki Galena as a series of strange 'gifts' to an academic results in the discovery of a body on the couple's land in a hidden cottage. The body is missing teen Jennifer and finding it calls into question the convitcion of Patrick Shale for her murder 15 years ago. Meanwhile, another girl has gone missing and the police are frantic to locate her before she becomes the next victim. A seemingly separate case of sexual assault also is being investigated and proves to be linked.
The plot is very cleverly written to weave together the strands of the different cases. There are plenty of suspects and clues but the cases do not get fully solved until right at the end.
The relationships between the police characters are well established as you would expect from the 11th book in the series! There is the romantic hint between Nikki and Joseph but we see nothing of their personal or home life. Joseph's daughter takes centre stage in this book which adds to the emotional drama. Scenes were stolen by the flamboyant pathologist Rory and he was kept busy by author Joy Ellis in this book!
Hidden on the Fens could easily be read as a stand alone novel. It is a hugely enjoyable police procedural story with a strong female lead. The intricate plot will keep readers guessing and there is a little forensic detail but no graphic violence or information.
Here is my review of book 10 in the Galena series: Darkness on the Fens. And my review of a Jackman and Evans book, The Stolen Boys.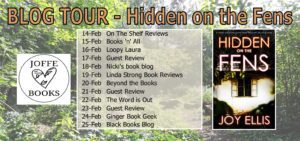 Hidden on the Fens (Detective Nikki Galena #11)
FROM TWO-MILLION SELLING AUTHOR, JOY ELLIS, COMES ONE OF THE MOST EAGERLY AWAITED CRIME THRILLERS OF 2019.
A DERELICT COTTAGE HIDDEN IN A COPSE OF TREES.
A MISSING GIRL WHOSE BODY WAS NEVER FOUND.
HAS HER KILLER RETURNED?
Detective Joseph Easter's daughter discovers a cottage hidden in some trees on a large fenland farm. Someone has been living there.
The farm-owner's wife has been receiving sinister pagan artefacts, including a witch's knife. Are they some sort of warning or message?
Joseph and his daughter search the cottage and find an old satchel. Inside are photos of a beautiful girl, Jennifer Cowley. She went missing fifteen years ago. She had been stalked by a young man, who was convicted of her murder, even though her body was never found.
WHEN DI NIKKI GALENA EXAMINES THE COTTAGE, SHE FINDS SOMETHING FAR WORSE.
And in the satchel is a more recent photo of a girl who looks just like Jennifer.
The man who killed Jennifer is recently out of prison. Has he struck again?
At the same time, DC Cat Cullen and Dave Harris are trying to get evidence against a man who preys on widowed older women. Vernon Deacon is seemingly a pillar of society, with very influential friends. His victims are often not believed, so their job is not easy.
Full of twists and turns, this is a crime thriller that will keep you turning the pages until the heart-stopping ending.
This is book eleven of the international best-selling books featuring Nikki Galena.
Joy Ellis was nominated for audiobook of the year the British Book Awards 2018.
What readers are saying about JOY ELLIS
"Just wonderful to read." Carole
"Holds the reader's attention from the first word to the last." Nicki Richards
"Compulsive reading, I loved it." Viv
"Riveting tale from start to finish." Lynne
"Absolutely engrossing." Olga
"Brilliant book which kept me gripped from page 1." Barbara
THE DETECTIVE
DI Nikki Galena: A police detective with nothing left to lose, she's seen a girl die in her arms and her own family destroyed. She's tough on criminals but fiercely loyal to her team.
HER PARTNER
DS Joseph Easter is the squeaky-clean member of the team. But his nickname "Holy Joe" belies his former life as a soldier. He has a daughter and an ex-wife who wants his attention.
THE SETTING
The Lincolnshire Fens: great open skies brood over marshes, farmland, and nature reserves. It is not easy terrain for the Fenland Constabulary to police, due to the distances between some of the remote fen villages, the dangerous and often misty lanes, and the poor telephone coverage. There are still villages where the oldest residents have never set foot outside their own farmland and a visit to the nearest town is a major event. But it has a strange airy beauty to it, and above it all are the biggest skies you've ever seen.
DISCOVER YOUR NEXT FAVOURITE MYSTERY SERIES NOW
Perfect for fans of Rachel Abbott, Robert Bryndza, Mel Sherratt, Angela Marsons, Colin Dexter, or Ruth Rendell.
ALSO BY JOY ELLIS
THE NIKKI GALENA SERIES
Book 1: CRIME ON THE FENS
Book 2: SHADOW OVER THE FENS
Book 3: HUNTED ON THE FENS
Book 4: KILLER ON THE FENS
Book 5: STALKER ON THE FENS
Book 6: CAPTIVE ON THE FENS
Book 7: BURIED ON THE FENS
Book 8: THIEVES ON THE FENS
Book 9: FIRE ON THE FENS
Book 10: DARKNESS ON THE FENS
Book 11: HIDDEN ON THE FENS
Join the Joffe Books mailing list for updates on the next Joy Ellis mystery.

JOY ELLIS – Author Bio
UK #1 Best Seller with THEIR LOST DAUGHTERS and THE FOURTH FRIEND
Over 1 million books sold!
"I was born in Kent but spent most of my working life in London and Surrey. I was an apprentice florist to Constance Spry Ltd, a prestigious Mayfair shop that throughout the sixties and seventies teemed with both royalty and 'real' celebrities. What an eye-opener for a working-class kid from the Garden of England! I swore then, probably whilst I was scrubbing the floor or making
the tea, that I would have a shop of my own one day. It took until the early eighties, but I did it. Sadly the recession wiped us out, and I embarked on a series of weird and wonderful jobs; the last one being a bookshop manager.
Surrounded by books all day, getting to order whatever you liked, and being paid for it! Oh bliss!
And now I live in a village in the Lincolnshire Fens with my partner, Jacqueline, and our four Springer spaniels. I had been writing mysteries for years but never had the time to take it seriously. Now I write full time, and as my partner is a highly decorated retired police officer; I find I have an in- house consultant on hand to make sure that the police and judicial procedure
is correct. She also makes very good tea! I have set my crime thrillers here in the misty fens because I sincerely love the remoteness and airy beauty of the marshlands. This area is steeped in superstitions and lends itself so well to murder!